Miniature Spectrometers cover UV to Mid-IR range.
Press Release Summary: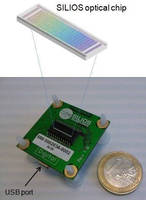 Tailored to specific requirements, compact mini-spectrometers are offered in various integration levels that combine optical micro-component, detector, and electronic board. Measurement is possible via transmission, reflection, or back-scattering mode, and resolution is rated down to 5 nm (FWHM). Compatible with various types of detectors, products suit range of chemical analysis and process control applications throughout various industries.
---
Original Press Release:

Silios Technologies at Photonics West Expo in San Jose, Calif., this January



Chicago, December 4, 2008
SILIOS Technologies launches new series of very compact mini-spectrometers that cover a wide spectral range from UV to Mid-IR. SILIOS will be exhibiting at Photonics West 2009 in San Jose, Calif., from Jan. 27 to 29, on the French Pavilion at booth 6249.

Low-cost and reliable, they are tailored to specific customer requirements. These mini-spectrometers are suitable for a broad range of chemical analysis and process control applications, in water treatment, agrifood and medical fields, or oil and microelectronic industries. They combine a proprietary optical micro-component, manufactured in SILIOS' clean room facilities, a detector and an electronic board. The collective fabrication of optical chip (comparable to microelectronics) enables a drastic price-volume ratio reduction. In addition, the compactness of the spectrometer optical core is a huge advantage for measurement stability and reproducibility.

The customer can select one of the following integration levels:

- Optical chip: The chips are manufactured on wafers, sliced, controlled and packaged.

- Optical chip/imager: The chip is mounted on pixelized sensors.

- Optical chip/imager/electronic board: The optical chip/imager system is integrated on electronic board that delivers raw data to a USB link (or other), or it performs signal processing to deliver spectrum or instructions.

- Full spectrometer: This integrates an optical chip/imager/electronic board and suitable light source with mechanical parts.

The main characteristics of SILIOS' spectrometers include a measurement by transmission, reflection or back-scattering mode, a discrete spectrum delivery, the choice and number of wavelengths and the compatibility with various types of detectors (CCD, CMOS, Ge, AsGa, micro-bolometers, etc.) according to the targeted spectral range and a resolution down to 5 nm (FWHM).

For more information, please contact:

SILIOS TECHNOLOGIES
Thierry Berthou
Sales Manager
ZI Peynier-Rousset
Rue Gaston Imbert prolonge
13790 Peynier
FRANCE
Tel.: +33 (0)4 42 53 89 60
E-mail: thierry.berthou@silios.fr
Web: silios.com

or:

FRENCH TECHNOLOGY PRESS OFFICE
205 North Michigan Avenue, Suite 3740
Chicago, IL 60601
Fax: (312) 327-5261
E-mail: contact.ftpo@ubifrance.fr