Miniature Shafts are produced with Swiss Screw Machine.
Press Release Summary: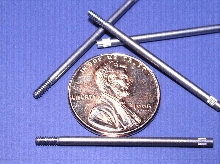 Produced from 12L14 Cold Drawn Steel, parts' outside dimensions measure 1.371 in. long with 0.068 in. dia. They feature precision cut knurl at one end and 1-56 UNS thread at opposite end to attach to knob and counter device. Threaded end is modified with a .069 radius for assembly. Parts' dimensions are held to ±0.005 in. with some critical dimensions held to 0.0005 in. Final machined parts are deburred for uniform smooth finish 32 rms or better.
---
Original Press Release:
Dejay Industries of Richardson, Texas, produces Precision Miniature Shafts with a Swiss Screw Machine

Dejay produces these precision parts from 12L14 Cold Drawn Steel. The outside dimensions of the parts measure 1.371 inches long with a 0.068 inch diameter. The parts have a precision cut knurl at one end and a 1-56 UNS thread at the other end to attach to a knob and the counter device. The threaded end is specially modified with a .069 radius for ease of assembly. The dimensions of the parts are held to ±0.005 inch with some critical dimensions held to five ten thousandths of an inch (0.0005 inch) . The final machined parts are deburred for a uniform smooth finish 32 RMS or better. The tiny parts shown in the enclosed photo are shown positioned next to a one cent piece for size comparison. They are used on a production revolution counter.

Although Dejay manufactures these parts for a precision laser leveling device, precision Swiss screw machine parts like these find use in medical applications, appliances, consumer electronics, and many other industries.

Dejay supplies Original Equipment Manufacturers (OEM's) with a wide variety of precision Swiss screw machine parts. This includes made-to-print precision components for the appliance, medical, electronic, consumer product, and optical industries. You can find these precision Swiss screw machine parts in products such as keyboards, lighters, miniature motors, surgical instruments, meters, electrical contacts, cellular phones, electronic connectors, optical instruments and lens polishing fixtures.

Dejay Industries is in Richardson, (a suburb of Dallas) Texas. The company produces made-to-print Swiss screw machine parts for a variety of industries that include appliance, medical, military, electronics, consumer products, automotive, connector, and optical. For more detailed information on Dejay Industries, visit their home page on the Internet at www.dejayind.com.

For release information contact:

Mark Goff

Marketing Consultant

232 Cove Drive

Coppell, Texas 75019

Telephone: 972-462-7990

Fax: 972-304-5580

E-Mail: markgoff@markgoff.com

For product information contact:

Mary Klein

Dejay Industries

1202 Richardson Drive, Suite #101

Richardson, Texas 75080

Telephone: 972-234-0211

Fax: 972-234-2490

E-Mail: info@dejayind.com

More from Explosives, Armaments, and Weaponry