Miniature Rotary Switches are shaft-actuated.
Press Release Summary: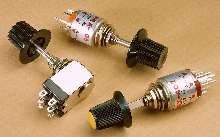 MR series rotary switches incorporate metal construction, positive detent mechanisms, and break-before-make contact mechanism. Rotaries measure ½ in. in diameter and have .787 in. shaft lengths. MRX models have PC-Turret terminals and are available in 1-, 2- and 4-pole options, varying from 2-8 positions. They rate 2 A @ 125 Vac and 1 A @ 30 Vdc. MRY model is 1-pole rotary with 2-6 positions and rates 3 A @ 125 Vac and 2 A @ 30 Vdc.
---
Original Press Release:

NKK Expands Miniature Rotary Series With Latest Power Level Switches


SCOTTSDALE, Ariz. (April 21, 2003) - NKK Switches today expanded its Miniature Rotary (MR) series of power-rated, rotary switches featuring metal construction that offers increased durability for bushings and housing. Available in a wide variety of packaging options, the new MR series of shaft-actuated rotaries are one-half inch in diameter and have 6mm threaded bushings for panel mounting.

MR rotaries have a positive detent mechanism delivering a distinct feel and audible feedback. Indexing varies from 45- to 120-degrees depending on the specified model. All models with PC or Turret terminals have molded-in terminals for washability to prevent entry of flux and other contaminates. All contact mechanisms feature a break-before-make mechanism that eliminates short circuiting. Additionally, design engineers can enhance front panel aesthetics with designer knobs available in various tip colors.

The MRX models have PC-Turret terminals and are available in single-, double- and four-pole options, varying from two to eight positions. They rate 2 amps at 125 volts AC and 1 amp at 30 volts DC. The MRY model is a single pole rotary with two to six positions and rates 3 amps at 125 volts AC and 2 amps at 30 volts DC. Both the MRX and MRY rotaries have bushing lengths of .295 inches and shaft lengths of .787 inches. Additional standard hardware includes locking ring, lockwasher, hex face nut and adjustable stopper plate for setting positions. The MRT model has a .787 inch shaft that joins the body at right angles, which reduces the behind-panel depth and makes it easier for designers to solder wires to the terminals. It is available in double pole, double throw, with either a two position 'ON ON' circuit with 60120-degree indexing, or a three position, 'ON OFF ON' circuit with 12060-degree indexing. The two position model is rated at 10 amps at 25 volts AC and 4 amps at 30 volts DC and the three position model is rated 5 amps at 125 volts AC and 3 amps at 30 volts DC. The MRT rotaries are UL recognized.

The MR series of power-rated rotaries has a mechanical life rating of 15,000 operations minimum and an electrical life rating of 7,500 operations minimum. Operating temperature range is -10°C through +70°C (+14°F through +158°F).

A leading designer and producer of electromechanical switches, NKK Switches offers one of the industry's most extensive selections of illuminated, process sealed, miniature, specialty and surface mount switches. The company manufactures more than three million toggle, rocker, pushbutton, slide, rotary, DIP rotary, keypad and keylock switches. NKK Switches maintains a complete network of qualified representatives and distributors through the United States, Canada, Central and South America, Europe and Asia.

For more information, contact NKK Switches, 7850 E. Gelding Dr., Scottsdale, AZ 85260. Phone 480-991-0942. Fax 480/998-1435. Or visit the NKK Switches Web site at www.nkkswitches.com.

More from Fluid & Gas Flow Equipment