Pressure Sensors / Detectors / Transducers
Miniature Pressure Transducer offers stable operation.
Press Release Summary: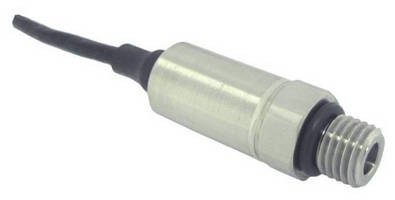 Featuring 300-5,000 psi range, CE-compliant and MEMS-based EB100 operates from -40 to +125°C with ±1% TEB and is intended for space-constricted designs. Unit is suited for measurement of liquid or gas pressure, including difficult media such as contaminated water, steam, and mildly corrosive fluids. Promoting stability over temperature range, UltraStable(TM) technology employs silicon-based strain gage isolated from media via oil-filled capsule and stainless steel diaphragm.
---
Original Press Release:

EB100 High Accuracy Miniature Pressure Transducer



Measurement Specialties, Inc. (NASDAQ: MEAS) has just released its new EB100 pressure transducer for production. It is CE compliant and offers a pressure range of 300 to 5000psi (350bar) and operates from -40°C to +125°C with a ±1% TEB. This high accuracy, miniature device was specifically designed for space-constricted designs in motorsports, military/aerospace, off-road, industrial, test stand and hydraulic applications.

The EB100 uses MEAS' UltraStable(TM) technology that provides stability over a wide temperature range and performance previously available only in much higher priced sensors. The UltraStable(TM) technology employs a silicon-based strain gage that is isolated from the media by an oil-filled capsule and a stainless steel diaphragm. High stability is provided through MEMS-based technology which offers excellent repeatability and minimal hysteresis. The 100% stainless steel media isolation protects against all but the most corrosive environments, offering excellent durability.

This new series of pressure transducers is the smallest design proposed by MEAS from the UltraStable(TM) line. It sets a new price and performance standard where high accuracy, small size and low weight are desirable. These miniature pressure transducers are suitable for measurement of liquid or gas pressure, including such difficult media as contaminated water, steam and mildly corrosive fluids. Custom OEM designs are available including various ports and output options.

Measurement Specialties, Inc. designs and manufactures sensors and sensor-based systems. The company produces a wide variety of sensors and transducers to measure precise ranges of physical characteristics such as pressure, force, vibration, torque, position, temperature, humidity, fluid properties, mass air flow and photo optics.

Measurement Specialties uses multiple advanced technologies - including piezoresistive, electro-optic, electro-magnetic, variable reluctance, magneto resistive, digital encoders, thermistors, thermocouples, RTDs, capacitive, resonant beam, application specific integrated circuits (ASICs), micro-electromechanical systems (MEMS), piezoelectric polymers and strain gauges to engineer sensors that operate accurately and cost-effectively in customers' applications.

For more information about Measurement Specialties and our products, email t&m@meas-spec.com or visit us at www.meas-spec.com.

More from Materials