Pressure Sensors / Detectors / Transducers
Miniature Pressure Sensor operates in confined areas.
Press Release Summary: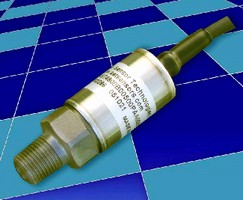 Through utilization of Krystal Bond Technology, Model AST4800 incorporates one-piece stainless steel sensing element that is free of silicone oil, welds, or O-rings, eliminating chance of contamination from outside media. Unit features temperature range of 4-220°F and operates over pressure ranges of 0-500 and 0-10,000 psi. With overall length of less than 2 in. and diameter of 0.7 in., sensor delivers 10 mV/V output with response time of less than 1 msec.
---
Original Press Release:

American Sensor Technologies Offers a Compact, Miniature Pressure Sensor For Pressure Measurement in Confined Areas



Mt. Olive, NJ -January 3, 2007...American Sensor Technologies, Inc. (AST) offers a miniature stainless steel pressure sensor for pressure measurement in confined areas. With an overall length of less than two inches and a diameter of 0.7 inches, the Model AST4800 Pressure Sensor can be employed in a wide range of applications including hydraulic systems, tests stands, HVAC/R, panel builders, automotive, as well as in industrial and agricultural equipment.

Through the utilization of the AST's patented Krystal Bond Technology, the Model AST 4800 incorporate a one-piece stainless steel sensing element that is free of silicone oil, welds or O-rings. This configuration eliminates the chance of contamination from outside media. In addition to a compact design, the Model AST 4800 features a high-strength stainless steel construction that is highly compatible with a diverse range of liquids and gases. Other benefits of the Model AST 4800 include its excellent response time (<1msec) and excellent price to performance ratio.

The Model AST4800 operates at a broad temperature range from -20 to 105°C [4 to 220°F]. Units operate over ranges between 0-500 PSI and 0-10,000 PSI. Sensors are equipped with a 10mV/V output, providing more output signal than the competition. In addition, cable length options of 2, 4, 6 and 10 feet are offered.

Competitive pricing for the AST4800 starts at $110 with quantity discounts available. For more information on this miniature sensor, please visit the AST website at www.astsensors.com or contact the factory directly at info@astsensors.com.

About AST
AST manufacture state-of-the-art, MEMS-based pressure sensors, transducers and transmitters that offer the best price-performance ratio in the industry. Through the acquisition of noted LVDT manufacturer Macro Sensors (http://www.macrosensors.com/), AST also offers a full line of linear/rotary position sensors, as well as related instrumentation. Common applications of AST sensor products are in industrial OEM, hydraulic systems, fuel cells, medical gases, HVAC/R, refrigeration (ammonia, Freon, CO2), oil & gas exploration and production, and off-road vehicles. By combining exotic metals and AST's exclusive, proprietary Krystal Bond(TM) Technology (an advanced process in which inorganic materials are molecularly diffused onto a metallic surface in the presence of certain gases) in the manufacture of its pressure sensors, AST can produce high-performance pressure units that support the specialized needs of key niche markets. Many AST products are UL listed as intrinsically safe and certified for explosion-proof required environments. For more information on AST products and technology, please go to AST's website at www.astsensors.com.

More from Electrical Equipment & Systems