Pressure Sensors / Detectors / Transducers
Miniature Pressure Sensor comes with USB option.
Press Release Summary: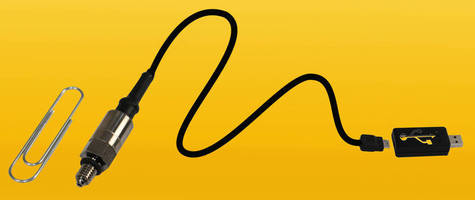 Weighing less than 10 g, PMP943 miniature pressure sensor measures less than 3 in. in length and features one piece all titanium construction in miniature design allowing for thin diaphragm and heavy side walls. It utilizes Thin Film technology and has high bandwidth capability up to 5 kHz and high temperature capability range of -40 to +140°C. Suited for use in corrosive fluid environments, unit has input pressure range of 73-5,800 psi, and output of 0.5-4.5 Vdc.
---
Original Press Release:

Miniature Pressure Sensor Available with USB Output



April 8, 2009

FUTEK Introduces PMP943 Miniature Pressure Sensor with USB option

FUTEK Advanced Sensor Technology, Inc. (FUTEK) has just added the PMP943 Miniature Pressure Sensor to their USB Sensor Solution Line. The new module with USB output eliminates the need for an analog amplifier, power supply, and display equipment making usage that much easier. The plug and play gives you power to monitor the output of the sensor and enjoy measurement that is less affected by noise, temperature variation or power supply requirement. The USB integration also includes FUTEK's USB Software which allows users to monitor the output in real time.

The PMP943 is an Ultra Miniature Pressure Sensor made of all titanium construction. This Sensor is made for harsh environments capable of sustaining the most corrosive and industrial applications. It is made of an ultra light design weighing less than 10g. The sensor provides high performance with an output of 5V DC from a 5V DC ± 10Mv supply. Input pressure range is 73 PSI up to 5800 PSI, withstanding vibrations of up to 50g at up to 20-2000Hz.

The PMP943 is manufactured from one piece of all titanium construction in a miniature design, allowing for a thin diaphragm and heavy side walls. These PMP Pressure sensors are ideal in corrosive fluid environments and are recommended for applications involving rough handling or where a completely hermetically sealed transducer is required. This model features an all welded rugged design to provide a high degree of compatibility with a very lightweight construction.

FUTEK's compact (<3 inches in length) PMP943 provides a new, economical, and durable option for system designers seeking a highly accurate yet small footprint pressure sensor. The Sensors can also be utilized in a variety of industrial applications as well where sensor size and mounting options are a concern. Additionally, FUTEK can custom design sensors for those with unique configuration needs.

Product Highlights:

Ultra Miniature Pressure Sensor: 10.6mm

All Titanium Ultra Light Weight Sensor > 10g

Built in Electronic: 0.5 to 4.5Vdc Output

High Bandwidth Capability: up to 5 kHz

High Temperature Capability: -40 to +140 degrees Celsius

Utilizes Thin Film Technology

For those who are a looking for a complete system solution, FUTEK can provide digital displays such as the IPM490 or related instrumentation. FUTEK's IPM500 Panel Mount Signal Conditioner with Digital Display is FUTEK's general solution for a complete sensor and instrumentation system.

FUTEK Advanced Sensor Technology, Inc.

Irvine, CA

Contact: John Vargas or John Schnell at info@futek.com

Related