Miniature Dual Load Switch features low on-resistance.
Press Release Summary: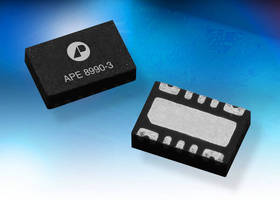 Model APE8990-3 dual load switch has RDS(ON) of 20 mΩ and controlled turn on. Unit's two N-channel MOSFETS each support maximum current of 6 A and operate over input voltage range of 0.8–5.5V. Controlled by ON/OFF input interfacing directly with low voltage control signals, switch also includes 150 Ω load resistor and is available in 3 x 2 mm, 14-pin DFN package with thermal pad. Rise time is adjustable, to avoid inrush current, using external ceramic capacitor on CTx pin.
---
Original Press Release:

Advanced Power Electronics Corp. Announces Miniature Ultra-Low RDS(ON) Dual Load Switch



Reduce system power in power rail management applications



San Jose, CA – Advanced Power Electronics Corp. (USA), a leading Taiwanese manufacturer of MOS power semiconductors for DC-DC power conversion applications, has announced a miniature, ultra-low on-resistance 6A dual load switch. Comprising two N-channel MOSFETs with associated control circuitry, the APE8990-3 has an RDS(ON) of 20mΩ and controlled turn on functionality.



The MOSFETs operate over an input voltage range of 0.8 to 5.5V and each support a maximum current of 6A. Each load switch is controlled by an ON/OFF input (ON), which is capable of interfacing directly with the low voltage control signals. Additional features include an on-chip 150Ω load resistor for quick output discharge when the switch is turned off. In order to avoid inrush current, the rise time is adjustable using an external ceramic capacitor on the CTx pin.



Comments Ralph Waggitt, President/CEO, Advanced Power Electronics Corp. (USA): "This is a very useful device, suitable for many applications as a load switch for power rail management. As an example, it can be used to turn off power to idle sub-systems, reducing system power consumption and thereby improving battery life in portable applications."



The APE8990-3 is available in an ultra small, space-saving 3x2mm 14-pin DFN package with a thermal pad. Download the datasheet at www.a-powerusa.com/docs/APE8990-3.pdf.



About Advanced Power Electronics Corp.

Established in Taiwan in 1998, Advanced Power Electronics Corporation has become a leading supplier of MOS power discretes, IGBTs and Power ICs which enable cost-effective efficient solutions for new and existing power applications. The company's wide range of solutions broadly targets the computing, consumer electronics, display, communications and industrial segments. ISO-approved, Advanced Power Electronics Corp.'s commitment to consistent quality assurance and the increased economies of scale has seen the company increase in revenue - trading profitably each year since its foundation - and it has been ranked as one of the world's top fifteen power MOSFET suppliers by iSuppli.



For further information:

Ralph Waggitt,

President/CEO, Advanced Power Electronics Corp. (USA),

Tel: +1 408-717-4231

Email: rwaggitt@a-powerusa.com

http://www.a-powerusa.com