Miniature Compression Fittings suit 1/4 in. OD tubing.
Press Release Summary: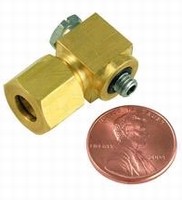 Featuring 10-32 thread, straight brass Model MCB-14 and 303 SS Model MCB-14-303 measure 53/64 in. long and are designed with ½ in. hexagonal body. Elbow compression fittings include brass Model MCBL-14 and 303 SS Model MCBL-14-303, which are 59/64 in. long and have installed height of 21/32 in. All provide leak-tight seal for tubing connections. Seal options include Buna-N, Fluorocarbon, EPDM, and Silicone.
---
Original Press Release:

Beswick Engineering Offers 10-32 Threaded Compression Fittings for 1/4-in OD Tubing



Beswick Engineering Offers 10-32 Threaded Compression Fittings for 1/4-in OD Tubing
November 16, 2006

Introducing the world's smallest 10-32 threaded elbow and straight compression fittings for use with 1/4-in OD tubing

Beswick Engineering announces the release of new compression fittings for 1/4-in OD tubing, 10-32 thread, in both straight and elbow configurations. The straight compression fittings MCB-14 (in brass) and MCB-14-303 (in 303 SS) are only 53/64-in (21 mm) long. They are designed with a 1/2-in (12.7 mm) hexagonal body. The elbow compression fittings MCBL-14 (in brass) and MCBL-14-303 (in 303 SS) are only 59/64-in (23.4 mm) long and have an installed height of only 21/32-in (16.7 mm). These new products set an industry standard for miniaturization and high performance.

Beswick offers a wide selection of miniature compression fittings. Beswick's compression fittings incorporate O-ring seals in a wide variety of elastomers to provide a truly leak-free installation.

Advantages of Beswick's compression fittings:
o Leak-tight seal for tubing connections
o Easy to install
o Available for 1/16", 1/8" and now 1/4" OD tube sizes in straight, elbow and tee configurations
o Various materials: brass, 303 stainless steel, 316 stainless steel
o Threaded fittings available with M3, M5, M6, 10-32 and 1/4-28 threaded connections
o Seals - Buna-N, Fluorocarbon, EPDM & Silicone
o Accessories are available: caps, plugs, replacement ferrules and pre-swage tools
o Custom configurations

More from Controls & Controllers