Miniature Circuit-Breakers meet requirements for UL 489.
Press Release Summary: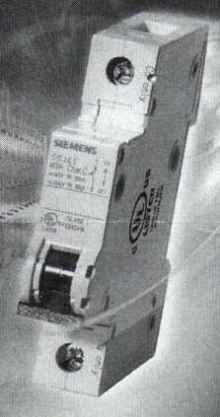 Comprised of 62 devices, single-pole 5SJ4 series has installation depth of 70 mm and terminals designed for field wiring class. Products, designed for rated voltage of 240 Vac and 60 Vdc, meet requirements of EN/IEC 60 898. Rated switching capacity is specified up to 15 kA for 240 Vac and 10 kA uniformly for 60 Vdc. Suited for protection tasks within ANSI guidelines, devices can be used in control cabinets and controllers as well as for feeder circuit protection.
---
Original Press Release:

Miniature Circuit-Breakers with UL Approval; New Range of Single-Pole Miniature Circuit-Breakers for the U.S. Market


Siemens Automation and Drives (A&D) has developed a new range of miniature circuit-breakers for the U.S. market. The single-pole devices of the 5SJ4 range fulfill the requirements of UL 489 and can thus be used in control cabinets and controllers for protection tasks within the validity range of the American National Standards Institute (ANSI). The circuit-breakers are designed in such a way that they can be used for domestic installations as well as industrial plants.

The miniature circuit-breakers of the 5SJ4 range from Siemens A&D have been developed on the basis of the 5SY range of circuit-breakers already established in the European market. The new circuit-breakers comply with UL 489 so they are acceptable on the U.S. market in accordance with ANSI guidelines, and can be used for feeder circuit protection. This provides a device that complies with the ANSI regulations as well as meeting the requirements of EN/IEC 60 898. The 5SJ4 range includes a total of 62 individual devices.

The single-pole devices are designed for a rated voltage of 240V AC and 60V DC. This takes account of all applications in controller engineering and enables use in the same-polarity installations of the American market's 240/120V system. The rated switching capacity is specified as up to 15kA for 240V AC depending on the version, and 10kA uniformly for 60V DC. The terminals are designed for the field wiring class. This means the devices can be used not only in utility buildings and industrial plants, but also for installation in domestic dwellings.

The new devices fit into the range of the BETA circuit-breaker generation with an installation depth of 70 mm. The tripping characteristics B, C und D were derived from IEC/EN 60 898 and adapted to the special requirements of UL 489, and the rated currents from the 0.3 to 63A range were also adopted. The AWG-typical rated currents 15, 30, 45 and 60 amps have been supplemented.

You can find more information on the Internet at: http://www.siemens.de/beta-news

More from Electrical Equipment & Systems