Miniature 4-digit LCD features 0.174 in. high characters.
Press Release Summary: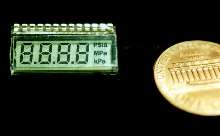 Model LCD-S401M14TF incorporates 3 decimal points, allowing numbers ranging from 0.001 to 9999 to be displayed. Units of measure for pressure indication include psia, MPa, and kPa. Transflective unit utilizes Twisted Nematic LCD fluid against gray background. Device operates from 5 Vac supply, over temperature range of 0 to +50°C. In-line package measures 0.80 x 0.40 in. with 13 0.25 in. long leads on 0.060 in. centers. Custom features are available.
---
Original Press Release:

Lumex Introduces New Miniature 4-Digit Liquid Crystal Display, Available Customized Even in Small Production Quantities


PALATINE, IL--Lumex, Inc. is announcing a new miniature 4-digit liquid crystal display (LCD) with characters only 0.174-inch (4.42mm) high. This new Lumex LCD, model LCD-S401M14TF, incorporates three decimal points, allowing numbers ranging from 0.001 to 9999 to be displayed. It also includes units of measure for pressure indication in PSIA, MPa, and kPa. Because of Lumex's unique manufacturing expertise, this display is available with customer-specified features, in production quantities as small as 1,000 units. This LCD is ideal for equipment or instruments where a miniature pressure display is required, or in any application requiring a compact, 4-digit display with extremely low power consumption.

The transflective LCD-S401M14TF utilizes Twisted Nematic (TN) LCD fluid against a gray background, for good readability. An optional backlight is also available, allowing usage in environments with very low--or even zero--ambient light.

This LCD is housed in a single in-line package with thirteen 0.25-inch long leads (6.35mm), on 0.060-inch centers (1.50mm). Total package footprint size is 0.80-inch (20.32mm) by 0.40-inch (10.16mm). Package thickness is 0.11-inch (2.80mm) maximum. The device operates from a 5.0VAC supply, over a temperature range of 0°C to +50°C. Storage temperature range is -20° C to +70° C.

Samples of Lumex's new miniature 4-digit LCD in standard configuration are available in 4 weeks, with production quantities in 6 - 8 weeks. Pricing depends on quantity ordered and options specified. Typical pricing for the standard configuration is $0.32 each in quantities of 5,000.

For more information on the LCD-S401M14TF miniature 4-digit LCD, visit www.lumex.com/custom gallery/index.html#pressure display. For information on any Lumex product, visit www.lumex.com, or in North America contact, Lumex, Inc., Sales Department, 290 E. Helen Rd., Palatine, IL 60067 USA. Phone: 1-800-278-5666. FAX: 1-800-944-2790. E-mail: sales@lumex.com World Wide Web: www.lumex.com. In Asia, contact Lumex's Asian Pacific Headquarters at 3F, No. 972, Sec. 4, Chung Hsing Rd., Chudung, Hsinchu, Taiwan, ROC. Phone: +866-3-582-1124. FAX: +886-3-582-1154. World Wide Web (in Chinese): www.lumex.com.tw

Lumex Inc., is a leading designer, distributor and manufacturer of opto- and photo-electronic components, devices and displays. These products are used mostly in the man-to-machine interface, and in some cases, for the detection of motion, short-range signaling, and fiber communication.

Lumex now offers over 8,000 items, with an emphasis on custom and application-specific parts for the North American and European markets.

The company is headquartered in Palatine, Illinois and Chudung Hsinchu, Hsien, Taiwan ROC, with manufacturing facilities in Illinois, Taiwan and China, and distributors throughout North America, Europe and the Pacific Rim. Since its inception in 1980, Lumex was established as a global organization offering application-specific solutions--but with the manufacturing efficiencies normally associated only with volume operations. Lumex received its initial ISO 9001 registration in 1996.

More from Laboratory and Research Supplies and Equipment