Miniature 350 V Dual 1-Form-A SSR targets telecom applications.
Press Release Summary: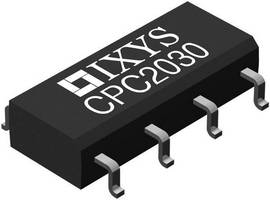 Featuring 350 V blocking voltage suited for switching and instrumentation applications, CPC2030 Dual 1-Form-A (2 Single-Pole, NO switches in one package) Solid State Relay (SSR)Â comes in 8-pin, narrow SOIC with double-molded vertical construction packaging. Relay, which may be used as drop-in replacement for Panasonic AQW210SX, features 120 mA max load current and 30 Ω max on-resistance with 2 mA input trigger control current. Input to output isolation voltage is 1,500 Vrms.
---
Original Press Release:

IXYS Integrated Circuits Division Introduces New 350V Dual 1-Form-A Solid State Relay in a Narrow 8-Pin SOIC Package



The 350V CPC2030 Solid State Relay, offered in a package that is 40% smaller than the standard 8-Lead SOIC, specifically targets telecom switching and instrumentation applications



Beverly, Massachusetts, USA, IXYS Integrated Circuits Division (formerly Clare, Inc), an IXYS company (NASDAQ: IXYS – News) and world leader in the design and manufacture of solid-state relays, announced the availability of the miniature 350V, 8-pin narrow SOIC, Dual 1-Form-A (2 Single-Pole, Normally Open switches in a single package) Solid State Relay (SSR).



The CPC2030 is 40% smaller compared to the popular standard 8-lead SOIC, thus enabling significant board space savings.  The CPC2030N uses IXYS Integrated Circuits Division's state of the art, double-molded vertical construction packaging to produce one of the world's smallest relays, and is a drop-in replacement for the Panasonic AQW210SX



The CPC2030 features 120mA maximum load current and 30 Ohms of maximum on-resistance with 2mA of input trigger control current.  The reduction of input current allows for the drive of these SSRs directly from our Zilog MCUs. Input to output isolation voltage is 1500Vrms.  The 350V blocking voltage of the relay is ideal for use in telecom switching systems and instrumentation. Approvals include UL Certified Component: File E76270, CSA Certified Component: Certificate 1172007, EN/IEC 60950-1 Certified Component, and TUV Certificate B 10 05 49410 006.



The small size of this SSR and its low input power drive requirement makes it ideal for portable instruments, remote applications enabling automation control of industrial systems



Pricing and Availability



The CPC2030, 350V Dual 1-Form-A, normally open, SSR is in full production with a leadtime of 4 weeks. Pricing for OEM quantities of 25KU is $0.64 each.  For additional information, please contact your local sales representative:

http://www.ixysic.com/home/pages.nsf/locate.rep

or visit

http://www.ixysic.com/home/pdfs.nsf/www/CPC2030N.pdf/$file/CPC2030N.pdf for the datasheet.



About IXYS ICD and IXYS, Inc.



IXYS Integrated Circuits Division, a leader in the design and manufacture of solid state relays and high voltage integrated circuits, is a wholly owned subsidiary of IXYS Corporation. IXYS Corporation develops and markets primarily high performance power semiconductor devices that are used in controlling and converting electrical power efficiently in power systems for the telecommunication and internet infrastructure, motor drives, medical systems and transportation. IXYS also serves its markets with a combination of digital and analog integrated circuits, power systems and RF GaAs and GaN based products. Additional information about IXYS Integrated Circuits Division and IXYS may be found at www.ixysic.com and www.ixys.com.



Catherine Austin

IXYS Integrated Circuits Division (formerly Clare)

Product Marketing Manager

More from Packaging Products & Equipment