Mini Track Loader improves productivity with capacity and reach.
Press Release Summary: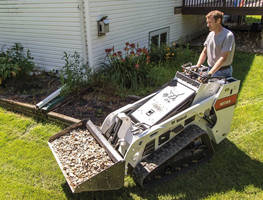 Suited for limited-space jobsites, MT85 has rated operating capacity (ROC) of 850 lb for lifting, carrying, and dumping materials. Operating weight is 3,110 lb, and availability of  36 or 44 in. track widths result in respective ground pressure ratings of 4.9 and 3.5 psi. Powered by 25 hp, Tier 4-compliant diesel engine, loader offers 80.9 in. lift height (to hinge pin), 8 in. ground clearance, dual ISO joystick controls, forward travel speed of 4 mph, and reverse speed of 2.3 mph.
---
Original Press Release:

New Bobcat MT85 Mini Track Loader has Increased Rated Operating Capacity, Higher Lifting Height and Greater Reach for Improved Productivity



(WEST FARGO, N.D.) Bobcat Company introduces the all-new MT85 mini track loader, expanding its compact equipment lineup, after it introduced its first mini track loader — the MT52 — more than a decade ago. The Bobcat® MT85 boasts more power, increased lifting capabilities, additional stability and durable components to help operators efficiently complete everyday or challenging tasks in limited-space jobsites.



Bobcat MT85 mini track loaders are designed for professionals in landscaping and rental, followed by construction, buildings and grounds, and agriculture applications. These individuals will benefit from the new mini track loader and its attachment versatility. Owners can use the MT85 as a stand-alone machine or pair it with other Bobcat compact equipment to efficiently complete a variety of projects.



Stronger lifting, pushing capabilities

The MT85 has a 35 percent higher rated operating capacity (ROC) than prior mini track loader iterations — rated at 850 pounds — to lift, carry and dump materials. For additional productivity, MT85 operators can lift materials higher with an increase of 12 percent in lift height. For hard digging conditions, the lift arm breakout force has been increased by 29 percent from the smaller MT55 mini track loader.



Operators can accomplish more than previous iterations of Bobcat mini track loaders, thanks to an efficient hydraulic system that produces fast cycle times, impressive tractive effort, strong hydraulic breakout force, and exceptional pushing and digging abilities.



Durable components

Built with the same standards that Bobcat compact equipment owners have come to expect from the industry leader, the MT85 is a dependable and rugged mini track loader. Bobcat engineers designed the new MT85 based on the similar mini track loaders that have been popular machines for more than a decade. Input from Bobcat mini track loader customers led the company to design a machine that is taller, with greater ground clearance and an additional 6 inches of track length on the ground for added stability, without sacrificing the quality design aspects from prior iterations.



New dual joystick controls, foot pedal

A change from prior Bobcat mini track loaders, the new MT85 is designed with dual ISO joystick controls. The loader's drive function is controlled by the left-hand joystick. The right-hand joystick controls the loader's lift and tilt functions. Gauges and dials on the loader's dash panel remain unchanged from the MT55.



A new operator presence / safety pedal regulates the auxiliary hydraulic flow for use with approved attachments. The pedal must be engaged when the operator is using an attachment with detent hydraulic flow, such as trenching, snowblowing, digging holes with an auger or pushing / sweeping material with an angle broom.



Ride-on platform

A standard ride-on platform gives operators better visibility to the front-mounted attachment, such as the loader bucket's cutting edges, and the work area to help them be more productive. The platform for the MT85 was designed to help operators easily access the mini track loader controls, especially for taller operators, thereby reducing operator fatigue.



Additional comfort features include a roller on the back of the loader frame to help reduce vibration and provide a smoother ride; standard hip pads; larger grab handles for getting on and off of the loader; and a cup holder. A storage compartment is located on the left side of the operator for convenience.



Another performance benefit of the new ride-on platform is a higher forward travel speed of 4 mph — an increase of 23 percent — and 2.3 mph when operating in reverse. Increased travel speed is particularly useful in lift-and-carry applications where the operator needs to move bulk materials from point A to point B.



Easy to service

Bobcat MT85 mini track loader operators can easily access the engine compartment for routine maintenance. The loader's drivetrain, service points and cooling package remain the same as the smaller MT55 mini track loader, making it easy for prior Bobcat mini track loader operators to easily identify and service routine maintenance items.



Also unchanged from prior iterations of Bobcat mini track loaders is the spring tension track system. After years of proven reliability on smaller mini track loaders, this industry proven system will be adapted on the MT85.



Common attachment interface

A new option for the MT85 mini track loader is the common industry interface (CII). The CII will allow customers who are accustomed to this pin on design to retain the familiarity of their chosen interface and have it matched to a Bobcat mini track loader.  New Bobcat attachments introduced with the CII interface include:

• Auger

• Buckets: 36 or 44 inches

• Hydraulic breaker

• Pallet fork

• Trencher



Unique in the mini track loader industry, the time-tested and popular Bob-Tach® attachment mounting system will still be available for the MT85, if customers prefer. One of the benefits of the Bob-Tach system is the ability to swap attachments from the MT85 to other approved carriers such as the Bobcat S70 skid-steer loader. There are more than 20 approved Bobcat attachments for use with mini track loaders with the Bob-Tach attachment mounting system.



Built for confined jobsites

The Bobcat MT85 mini track loader can turn within its tracks, with minimal turf damage, to complete projects where larger machines can't fit. Owners can choose between two widths — 36 inches with narrow tracks or 44 inches with wide tracks — to best match their application. Its compact size, which is ideal for traveling through fence gates, backyard projects or other tight areas, makes the MT85 a smart choice to replace tasks previously done with manual labor and hand tools.



In some cases, purchasing a mini track loader is a natural progression for individuals who want to break into the landscaping market segment, especially for completing residential landscaping projects. The machine's compact size, attachment versatility and low ground disturbance provide an exceptional entry-level machine in landscaping.



QuickLook: MT85 mini track loader

Rated operating capacity: 850 lb. (385kg)

Engine: 25 hp Tier 4-compliant diesel (18,6 kW)

Lift height to hinge pin: 80.9 in. (2056 mm)

Operating weight: 3110 lb. (1410 kg)

Auxiliary hydraulic flow: 12 gpm (45,2 L/min.)

Width:

• 36 inches with bucket (narrow tracks)

• 44 inches with bucket (wide tracks)

Maximum forward travel speed: 4 mph (6,4 k/hr.)

Maximum reverse travel speed: 2.3 mph (3,7 k/hr.)

Ground clearance: 8 in. (203 mm)

Ground pressure: 3.5 psi (wide tracks); 4.9 psi (narrow tracks)



ABOUT BOBCAT COMPANY

Bobcat Company, headquartered in West Fargo, North Dakota, is a worldwide leader in the manufacturing and distribution of compact equipment. Bobcat compact equipment includes skid-steer, all-wheel steer and compact track loaders; compact excavators; mini track loaders; VersaHANDLER® telescopic tool carriers; utility vehicles and Toolcat™ utility work machines. Bobcat is a global brand with more than 550 dealer locations in North America and the leader in compact equipment — the industry's original innovator, beginning more than 50 years ago with the first compact machine and predecessor to the skid-steer loader. Bobcat Company is a subsidiary of Doosan Infracore Bobcat Holdings Co., Ltd., a wholly owned subsidiary of Doosan Infracore Co., Ltd. For more information on Bobcat products, visit Bobcat.com.



Certain specification(s) are based on engineering calculations and are not actual measurements. Specification(s) are provided for comparison purposes only and are subject to change without notice. Specification(s) for your individual Bobcat equipment will vary based on normal variations in design, manufacturing, operating conditions and other factors.



For additional information about Bobcat Company, its products and services, point your Web browser to Bobcat.com/our_company/media_center.



Bobcat®, the Bobcat logo and the colors of the Bobcat machine are registered trademarks of Bobcat Company

in the United States and various other countries.



©2015 Bobcat Company. All rights reserved.

More from Fluid & Gas Flow Equipment