Mini SSD suits tablets and other portable devices.
Press Release Summary: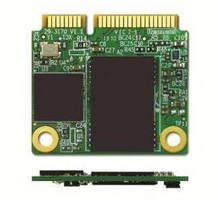 Fully compliant with SATA II 3 Gb/s specification and built with toggle-mode MLC NAND flash chips, Model MSM610 provides sequential read and write speeds up to 245 and 48 MBps, respectively. Device comes equipped with advanced features such as TRIM and NCQ support, built-in ECC and wear leveling, intelligent block management, support for SMART commands, and shock resistance. Measuring 26.8 x 29.85 x 3.85 mm, solid state drive is available in 8, 32, and 64 GB capacities.
---
Original Press Release:

Transcend Releases mSATA Mini SSD Ideal for Tablets and Other Portable Devices



New Delhi -- Transcend Information, Inc. (Transcend ), a leading manufacturer of industrial-grade products, today announced the release of its SATA II 3Gb/s MSM610 mSATA mini solid state drive (SSD). With its diminutive yet robust form factor, impressive sequential read/write transfer speeds, and a host of reliability features, the MSM610 mSATA mini SSD delivers solid state performance and durability to today's advanced mobile devices such as tablet PCs, Ultrabooks, and other embedded storage applications.



Fully compliant with the SATA II 3Gb/s specification and built with industry-leading toggle-mode MLC NAND flash chips, the MSM610 mSATA mini SSD boasts blazing fast sequential read and write speeds up to 245 and 48 MB/s respectively. This outstanding performance translates into reduced boot up and data transfer times, superior application launch speed, and enhanced overall system responsiveness; especially useful for dual-drive notebooks and Ultrabooks taking advantage of both the high-speed MSM610 mSATA mini SSD and a high capacity hard disk drive.



Transcend's MSM610 mSATA mini SSD measures just 26.8mm x 29.85mm x 3.85mm and offers excellent design flexibility to manufacturers of space-restricted embedded applications, including tablets, smartphones, Ultrabooks, eBook readers, navigation systems, set-top boxes, hand held scanners, mini PCs, and other compact devices. Despite its extra-small dimensions, the MSM610 comes equipped with advanced features such as TRIM and NCQ support, built-in ECC and wear leveling, intelligent block management, support for enhanced S.M.A.R.T. commands, and excellent shock resistance, providing exceptional reliability and data protection.



To further protect SSD data, built-in Advanced Power Shield technology directly monitors the host power input to prevent data loss in the event of a sudden power outage. Transcend's SATA II 3Gb/s MSM610 mSATA mini SSD is available in 8GB, 32GB and 64GB capacities.



Transcend is a globally recognized leader in the manufacture of storage and multimedia products. Established in 1988, Transcend offers a full line of standard and proprietary memory modules, flash memory cards, USB flash drives, portable hard drives, solid-state drives, digital music players, card readers, multimedia products and industrial products. Transcend has manufacturing facilities in Taiwan and China, and has offices in the United States, the United Kingdom, Germany, The Netherlands, Japan, Korea, Taiwan, China and Hong Kong. For more information, please visit www.transcend-info.com

        













More from Chemicals & Gases