Mini-PCIe Video Capture Card has flexible video input MUX.
Press Release Summary: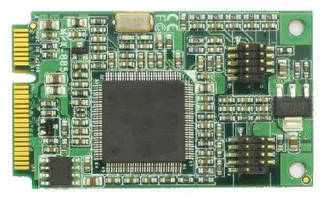 Integrating all functions needed to perform external A/V capture for various applications, MPX-885 color frame grabber features worldwide video and audio decoders, 10-bit video ADCs, and 10-bit video data path. Its 2D adaptive comb filter supports NTSC, PAL, and SECAM video; one of these can also be supported for color formats, while Y8 is supported for monochrome. Also, 16-bit audio resolution (min) is supported through entire audio data path, and card can capture up to 30 fps.
---
Original Press Release:

COMMELL Introduces Mini-PCIe Video Capture Card



Taiwan Commate Computer Inc.(COMMELL), the worldwide leader of single board computers, introduced the PCI Express Mini Card MPX-885 video capture card (Color Frame Grabber) that based on Conexant`s CX23885 chipset, brings long heritage of audio and video capture solutions to systems. The MPX-885 integrates all the functions required to perform external A/V capture for Industrial and commercial market such as home security, commercial surveillance, vehicle`s DVR, commercial machine vision and industrial image control.

The integrated worldwide video decoder and audio decoder can be used for a high-performance, cost-effective, basic A/V capture, Quality video is accomplished by using 10-bit video Analog-to-Digital Converts, a full 10-bit video data path, a two dimensional adaptive comb filter for NTSC, PAL and SECAM video for improved image quality, One of these can also be supported for Color formats and while Y8 is supported for monochrome applications. For high-quality audio, provides ADCs for stereo audio capture. A minimum of 16-bit audio resolution through the entire audio data path ensures high-fidelity audio.

The MPX-885 is shipped as a complete hardware and driver package. The package includes MPX-885 Mini Card, cales, user`s manual(CD) and Windows XP driver for software development.

Features:

PCI Express Mini Card compliant, Complies with RoHS

Worldwide audio and video decoding

Can capture up to 30 frames/second

D1, CIF, QCIF standard image sizes

Flexible video input MUX supporting composite, S-Video, and component inputs with integrated anti-alias filtering

1~8 composite inputs or 1~4 S-Video inputs or One Composite with two YPbPr.

Video color formats to choose from RGB32,24,16,15, YUV2, BtYUV, Y8, Y210

Integrated sigma-delta stereo audio ADCs with 4:2 MUX

Audio sample-rate converters on all inputs and outputs

Support for stereo, mono audio formats

COMMELL PCI Express Mini Card:
PCI Express Mini Card(also known as Mini PCI Express, Mini PCIe, and Mini PCI-E), is a replacement for the Mini PCI form factor based on PCI Express. PCI Express Mini Cards are 30 x 56 mm and smaller than PC Cards, PCI Express add-in cards, Mini PCI add-in cards, and other add-in card form factors. This reduced size permits a higher level of integration into embedded PC. It provides a number of benefits, including: Flexibility for Build-To-Order, Upgradeability for the newest technology, Seviceability, Reliability, Reduced size:

MPX-574D(D2): 1 x Giga LAN(2 x Giga LAN).
MPX-SDVOD: DVI interface.
MPX-SDVOX: 24 bit dual channel LVDS.
MPX-7767: 802.11 b/g/n wireless LAN.
MPX-2503: 802.11 b/g wireless LAN.
MPX-954: 4 x RS232.

About COMMELL
COMMELL is a leading supplier of Single Board Computers and focuses on developing the most advanced and reliable IPC products. In addition to promise our customers constantly stay ahead of this competitive business, we are always in search of disruptive & incremental sustaining innovation. We treat every of our customer as partner and provide the best services and total support. The combination of innovation, superior quality, and excellent services will ensure both Taiwan Commate Computer Inc., and our customers always have the competitive edge in the computer world.
For further information about COMMELL is available at www.commell.com.tw

More from Electrical Equipment & Systems