Mini PCI Video Capture Card accepts 4 channel of input.
Press Release Summary: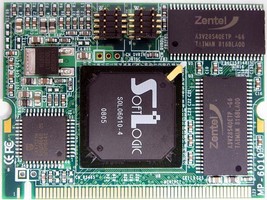 Available with Scode DVR program or SDK, MP-6010 features 4 video/audio input channels and one video/audio output channel. Single-chip solution utilizes MPEG4 hardware compression technology and offers programmable OSG (On Screen Graphic) 120/100 fps at 704 x 480 or 704 x 576 (NTSC/PAL) resolution. Compression parameters can be configured for each video channel, and internal I/O includes RS485, DVR-in, and DVR-out. Unit supports MPEG4 video and Motion JPEG.
---
Original Press Release:

MP-6010, 4-Channel MPEG4 Hardware Compression Mini PCI Capture Card



Features/Briefing:
4-channel video / audio inputs
1-channel video / audio output, Programmable OSG (On Screen Graphic) 120 / 100 fps @ 704x480 / 704x576 (NTSC / PAL) Compression parameters of each video channel are configurable including Frame Size, Frame Rate, QP, GOP size, etc.
MPEG4 video and Motion JPEG
OS: Windows XP / 2K / Linux
Scode DVR program and SDK available

Taiwan Commate Computer Inc. (COMMELL), being proud of winning leadership bringing security / surveillance business into IPC industry, continuously develops and innovates niche products for years.

With advantages of well-established product variety of Mini PCI capture cards for years, e.g. MP-878D series Mini PCI software video capture card with 1~8 channels available, Commell had strived for offering total Mini PCI video capture card categorized by compression mechanism, number of channel, frame rate, resolution, etc. That is why Commell is always associated with Mini PCI video capture card, i.e. Mini PCI video capture card means Commell.

Now Commell released MP-6010, newest 4-channel MPEG4 hardware compression Mini PCI capture card. MP-6010 is a high performance, high integrated and cost-effective one-chip solution designed for being used in space saving but powerful, multiple operating, and remote control surveillance applications. In the past, you could only have this card in PCI interface with equivalent specifications. But now it is accomplished by Mini PCI interface.

Commell has a complete and well-constructed vision / roadmap about surveillance / security in the future. Currently we have Mini PCI (MP-2010, MP-9200, MP-6802) and PCI (SP-6216, SP-6208, SP-6204, SP-5300, SP-5200) interface applicable products; moreover, PCI Express will be coming soon. Besides, Commell is capable of providing fanless / rugged DVR system (CMS-370, CMS-675) with strong bundled DVR program for client and server end based on customized Windows XP Embedded.

About COMMELL
COMMELL is a leading supplier of Embedded Computers and focuses on developing the most advanced and reliable IPC & Surveillance products. In addition to promising our customers constantly stay ahead of this competitive business, we are always in search of disruptive & incremental sustaining innovation. We treat every of our customer as partner and provide the best services and total support. The combination of innovation, superior quality, and excellent services will ensure both Taiwan Commate Computer Inc., and you always hold the key to the competitive edge in digital world.

For further information about COMMELL is available at www.commell.com.tw

Contact
Email: info@commell.com.tw; sales@tcommate.com.tw
Tel: 886-2-26963909 Fax: 886-2-26963911

More from Packaging Products & Equipment