Mini Linear Actuator is .785 in. high and can carry 6 lb load.
Press Release Summary: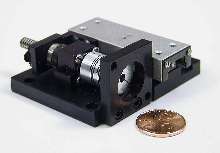 Model LE2-X features 2.060 x 2.500 in. aluminum actuator base that uses E-2 AC series ball slide assembly with 0.50 in. of travel. Anti-creep retainer system maintains alignment. Standard 0.188 in. diameter, 0.050 in. lead leadscrew drives slide from side. Anti-backlash nut is spring-loaded to assure positive movement when changing direction. Actuator offers straight-line accuracy of 0.0005 in. per in., 0.0002 in. repeatability, and speeds up to 20 rps.
---
Original Press Release:
New 0.785 Inch High Del-Tron Actuators Carry 6 Lbs

Bethel, CT (December 9, 2002) -- New LE series mini-linear actuators from Del-Tron Precision, Inc. provide a load-carrying capacity of 6 lbs yet the total height of the assembly is only 0.785 inches, making this one of the smallest commercially available linear actuator systems. The LE2-X consists of a precision, low friction ball slide assembly attached via a common base to an anti-backlash nut and leadscrew assembly. A beamed coupling and motor mount complete the assembly.

The actuator base is only 2.060 inch by 2.500 inch and uses a Del-Tron E-2 AC series ball slide assembly that has 0.50 inch of travel, and the Del-Tron anti-creep retainer system. The anti-creep system consists of a single piece U-shaped retainer with dowel pins that help keep the retainer centered, maintaining perfect alignment.

Del-Tron's straight-line design offers low friction and high accuracy in a compact lightweight package. It features a lightweight aluminum base and carriage containing two rows of precision ball bearings that are separated by a retainer and roll between four hardened and ground cylindrical shafts on either side. This design offers an exceptionally low coefficient of friction because the rolling elements are separated from each other and are not required to turn corners or to describe an oval path as in recirculating designs.

A standard 0.188 inch diameter, 0.050 inch lead precision leadscrew drives the slide from the side and is supported by two bearings and a housing at one end and a threaded bracket at the other. The anti-backlash lead screw nut is spring-loaded to assure positive movement when changing direction. The unit offers straight-line accuracy of 0.0005 inch per inch, 0.0002 inch repeatability and speeds up to 20 revolutions per second in the standard configuration.

Standard mounting holes on the slide carriage make it easy to attach the mechanism being moved and the unit's base offers four counter bored holes for mounting. The motor mount accepts the MS10 Sigma Mini Series motor available through many motion control vendors and distributors. Controllers and software are also offered through the same sources.

The Mini-Linear Actuator system is part of a new product line that offers flexible configurations. Del-Tron can provide special leads, diameters, couplings, motor mounts, and vary the size, type and travel of slides on request. For more information contact Del-Tron Precision, Inc, 5 Trowbridge Drive, Bethel, CT 06801. Phone: 203-778-2727 Fax: 203-778-2721 Internet: www.deltron.com.