Mini-ITX Embedded System Board combines performance, flexibility.
Press Release Summary: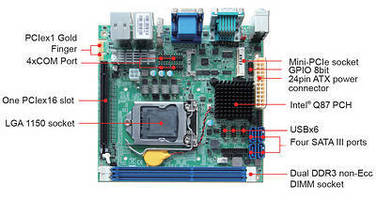 Portwell WADE-8015 is based on Intel® Q87 chipset and 4th generation Intel® Core™ processors (Haswell) in LGA1150 socket. Mini-ITX embedded system board supports 2-channel DDR3 long DIMM sockets (16 GB max), and PCIe Gen 3 (one PCIe x16 slot from CPU) delivers high speed and bandwidth up to 8 GT/s. Extension board provides flexible platform that facilitates multiple functional expansion choices. Diverse I/O, storage, and connectivity options are standard.
---
Original Press Release:

Portwell Announces WADE-8015 Mini-ITX Embedded System Board Utilizing 4th Generation Intel Core Processors



FREMONT, CALIF. – Portwell, Inc., a world-leading innovator in the Industrial PC (IPC) market, today announced the Portwell WADE-8015, a Mini-ITX form factor embedded system board, which adopts the 4th generation Intel® Core™ processor family (formerly codenamed "Haswell"). The 4th generation Intel Core processors drive the Portwell WADE-8015 to have higher performance and more functional expansion flexibility. Portwell's WADE-8015 creatively extends the motherboard design concept at the horizontal level and increases combination options for application-specific functions.



The Portwell WADE-8015 is based on the Intel® Q87 chipset and the 4th generation Intel Core processors in an LGA1150 socket supporting two-channel DDR3 long DIMM sockets and PCI Express Gen 3 to provide great data transferring bandwidth for improving graphics performance. Moreover, the enhancement in flash playback, rich 2D/3D graphics quality, security and power efficiency enables a fascinating visual experience in a variety of market segments such as Retail, Military, Medical, Industrial Automation and Digital Security Surveillance.



Portwell's WADE-8015, featuring flexible expansion interface, provides a brand-new solution under available resources and limited mainboard space. Different from existing Mini-ITX boards in the marketplace, which utilize a riser card to increase functional interfaces or additional PCIe/PCI slots, the Portwell WADE-8015 leverages an extension board to furnish a flexible platform that facilitates multiple functional expansion choices. Bridging PCIe signals through the Gold Finger to the extension board, WADE-8015 can easily support the functions on a two-slot-added FlexATX or three-slot-added Micro ATX motherboard. This expansion mechanism also supports other interfaces transmitted via specific circuit design and component selection. Therefore, Portwell can quickly make ready a customized solution with additional, project-required features, such as LAN, Mini-PCIe, etc.



The Intel Q87 chipset continues to work on the edge of innovation with a new architecture to deliver quality, performance, and industry-leading I/O technologies on most of the platforms powered by the 4th generation Intel Core processor family. WADE-8015 is the first Portwell off-the-shelf Mini-ITX embedded system board utilizing the Intel Q87 chipset.  Designing with the 4th generation Intel Core processors manufactured on the latest 22nm process technology, Portwell has taken the advantage of the powerful and energy efficient CPU to create a series of products that provides smart security, high-level management, and intelligent performance for industrial platforms.



The WADE-8015 offers lots of features including SATA storage, up to 6 Gb/s, via four SATA interfaces (two SATA III and two SATA II), supporting RAID 0/1/5 and 10 modes. The latest PCIe Gen 3 (one PCI Express x16 slot from CPU) delivers high speed and bandwidth, up to 8 GT/s. In addition, it features the latest USB 3.0 high speed transmission technology which supports 10 USB ports (four USB 3.0 ports on rear I/O and six USB 2.0 pin headers on board); two long-DIMM memory slots for DDR3 SDRAM, up to 16GB; and triple displays via VGA, HDMI and DP, which support both clone mode and extended mode. The Portwell WADE-8015 is also equipped with dual Gigabit Ethernet connectors and a Mini-PCIe interface with mSATA signal which provides customers with flexible choices for designing with devices for their storage-demanding applications. And again, the special extension-board design enables great flexibility and expandability for customized system integration



Product details: http://www.portwell.com/products/detail.asp?CUSTCHAR1=WADE-8015



Product availability: In addition to American Portwell Technology, Inc., the Portwell WADE-8015 Mini-ITX embedded system board is also available through Arrow Electronics, Inc. and Avnet, Inc.



About American Portwell Technology

American Portwell Technology, Inc., is a world-leading innovator in the embedded computing market and a Premier member of the Intel® Intelligent Systems Alliance. American Portwell Technology designs, manufactures and markets a complete range of PICMG computer boards, embedded computer boards and systems, rackmount systems and network appliances for both OEMs and ODMs. American Portwell is an ISO 9001:2008, ISO 13485:2003 and ISO 14001:2004 certified company. The company is located in Fremont, California. For more information about American Portwell's extensive turnkey solutions and private-label branding service, call 1-877-APT-8899, email info@portwell.com or visit us at http://www.portwell.com.



Intel and Intel Core are registered trademarks of Intel Corporation in the United States and other countries.

All products and company names referred to herein may be trademarks or registered trademarks of their respective companies or mark holders.



Product Contact:

Robert Feng

Product Marketing Manager

American Portwell Technology, Inc.

510-403-3371

robertf@portwell.com



Media Contact:

Susan Wei

Marketing Executive

American Portwell Technology, Inc.

510-403-3354

susanw@portwell.com

Related