Mini Industrial Computer withstands factory floor conditions.
Press Release Summary: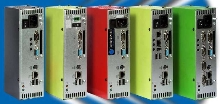 Suited for automation and control, JRex IBOX supports processors from 600 MHz VIA Eden to 1.6 GHz Intel Pentium M. All CPU assemblies are fanless and passively cooled. Measuring 226 x 59 x 122 mm, modular product incorporates PCI slot and between 256 Mb and 1 Gb of RAM. Compact Flash, between 128 Mb and 1 Gb, or internal, shock-resistant 20-60 Gb HDD can be implemented as storage device. Interfaces include 2 USB 2.0, Gigabit-LAN, COM1, PS/2, LPT, and VGA.
---
Original Press Release:

JRex IBOX - Kontron's Mini IPC for Automation and Control


Small IPC box with big performance and flexible design

Eching / Hanover, April 11, 2005 - No larger than a car radio, tough enough for industry and with a choice of processing power - the new JRex IBOX, which Kontron will introduce at the Hanover Fair, opens a new round in the miniaturization of industrial computers (IPC) for automation. Kontron packs high-performance processors, an AT power supply for 24 V DC or 110/240 V AC, an extensive standard set of interfaces and space enough to meet your application-specific I/O requirements with PCI-based expansion assemblies into a housing that measures a mere 226 mm x 59 mm x 122 mm (W x H x D). The choice of processors for the mini IPCs, which can be mounted on top-hat rails or the wall, ranges from the cost-saving 600 MHz VIA Eden to the energy-saving high-end 1.6 GHz Intel Pentium M processor. Optional expansion assemblies from Kontron and Kontron partners sit in the PCI slot, vibration-free and without cables; they cover a wide variety of application scenarios.

The JRex IBOX is specifically designed for industrial use; it is robustly equipped and intended to be maintenance-free during its life on the factory floor or in similarly rugged environments - for example, all CPU assemblies are fanless. Thanks to its limited size, there is also room for the JRex IBOX in more cramped environments. Typical applications for the IPCs are in the areas of field busses, processor control, firewalls, human-machine interfaces and embedded applications.

The JRex IBOX is modularly constructed in all of its components and can be configured and ordered by users in accordance with their needs. The basic variants of the compact IPC are defined by the types of processor used. Customers can choose from Intel® Pentium® M 1.1 GHz and 1.6 GHz, VIA Eden 600 MHz, VIA C3 1 GHz, Intel ULV Celeron® 400 MHz, and Intel LV Celeron 1 GHz. All the CPU assemblies are fanless and passively cooled. Depending on the customer's requirements and the processor and chipset chosen, between 256 MB and 1 GB of RAM is available and is implemented with low-cost standard SDRAM-DIMM Desktop Memory modules.

Every JRex IBOX offers two USB 2.0, Gigabit-LAN, COM1, PS/2, LPT and VGA as standard interfaces. Unless the customer requests otherwise, the interfaces for each model are located in the same place on the front plate. Either Compact Flash (between 128 MB and 1 GB) or an internal, shock-resistant hard drive with more space (between 20 GB and 60 GB) can be implemented as a storage device. An integrated housing fan cools the entire system. A completely fanless version will follow shortly.

Wide variety of expansion options

With PCI-based JFLEX expansion assemblies, Kontron has adapted the JRex IBOX I/Os for any use. The JFLEX communication variant adds two LAN ports, two USB 2.0 ports and one firewire port. Kontron has provided the multimedia component with a DVI or TV output, AC97 SPDIF sound and, likewise, a firewire interface. The MultiCOM expansion, as the name suggests, adds four COM ports, 32GPIO and a second LPT interface. An additional assembly accepts common miniPCI I/O modules. Expansion cards with Profibus and CAN switches round out the offer. Because the JFlex specifications are open, third-party I/O modules can be used or be developed by customers for specific applications. Several I/O cards from Kontron's certified partners are already on the market, including a framegrabber card and an industry-grade WLAN card.

Customer-specific configurations

Kontron will not only implement the desired expansions, but will also adapt the entire JRex IBOX to meet customer requests. The options range from housing color or lettering, to the design of alternative housing variants and the relocation of interfaces, to the development of customer-specific I/O assemblies. Of course, every JRex IBOX, in any configuration, is a finished, certified, complete solution. Current pricing for the JRex IBOXes as individual items starts at 690 Euro (six hundred ninety).

More from Agricultural & Farming Products