Mini Hot Runner Systems are used in injection molding.
Press Release Summary: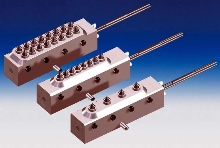 Systems H7000/... and H7001/... are suited for direct injection molding, without gating, of small and micro-parts. Up to 4, 8, or 16 articles, with part weights of 0.05-2 g, can be injected in narrow work areas. Total shot weight per system is 20 g max, and uniform part fill is ensured by natural balancing of systems. Products offer cluster spacing of 8 mm min, modular structure, and 2D sealing principle in gate area. Heat is provided via centrally arranged cartridge heater.
---
Original Press Release:

Mini Hot Runner System H7000/..., H7001/....


The HASCO mini hot runner system H7000/..., H7001/ has been developed for direct injection moulding, without gating, of small parts and micro-parts.

4, 8 or 16 articles with part weights of 0.05 to 2 g can be injected in the narrowest work area, the total shot weight per system not exceeding 20 g max.

Uniform part fill is ensured by a natural balancing of the systems. The minimum cluster spacing is 8mm. The HASCO mini hot runner system is highly suitable as a single system for use in micro-tools for mini injection moulding machines. The design is tailored to match standard micro injection moulding machines, such as Babyplast.

The modular structure of the systems also enables, in combination with the established HASCO hot-runner manifolds Z106/... and H 4010/..., multiple applications up to 64 drops to be realised at an attractive price.

The two dimensional sealing principle in the gate area ensures secure sealing and guarantees compensation for the radial expansion of the manifold, without causing stresses resulting from impeded heat expansion.

The nozzle tips used, which are screwed directly in the manifold, ensure optimum heat conduction right into the gate. Micro-gate diameters upwards of 0.4 mm can be implemented. The tip material TZM combines very good heat conductivity with excellent resistance to wear.

Heating is via a specially designed, centrally arranged cartridge heater. Yet this is not a conventional interior heated system. The melt is provided with the complete runner cross-section: there are neither solidified edge layers nor contact between the heating element and plastic melt. This prevents pressure loss and makes the colour change significantly easier. Combination with a replaceable thermo-sensor enables optimum homogeneity of the temperature profile to be attained, resulting in a minimum of control expense per system.

The programme is rounded off with a range of connecting elements such as load and sensor wrap connections.

In conjunction with a newly developed feed bushing with strip heater, a further variant of the hot-runner system (H7001/...) can also be used in standard mould structures and mould sizes from 156 x 156 mm upwards. This enables utilisation of the advantages described, even in traditional mould size ranges.

The H7000 is a technologically impressive solution for the cost effective implementation of applications in the small and micro field. And, of course, the modular structure of the systems ensures tremendously easy maintenance.

Special features:

- Smallest work area with cluster spacing from 8 mm upwards

- Uniform article fill via natural balancing of the systems

- Large-area sealing for compensating the heat expansion

- Low control expense, only one control circuit per system required

Related