Mincon Group to install AFC-Holcroft Batch Furnace Lines on Two Continents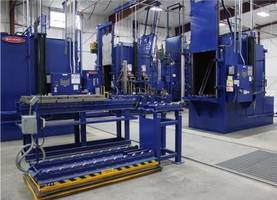 (August, 2018): Mincon Group, headquartered in Shannon, Ireland, has purchased 2 separate, complete batch style integral quench heat treatment lines from AFC-Holcroft.
The equipment will be utilized for the heat treatment of components such as those used in heavy industries like mining and drilling. The both batch furnace lines have features designed to reduce distortion of the products being processed.
One complete furnace line, consisting of an integral quench batch furnace with an effective load size of 36" x 72" x 56", tempering furnaces, washing and conveying equipment, controls system and accessory equipment, will be sent to the customer's manufacturing facility in Benton, Illinois, USA, and another smaller size line with an effective load size of 36" x 48" x 36" will be delivered to Perth, Australia. The size of the line in Benton is noteworthy in that the furnace load size is considered very large by industry standards (furnace has a gross load capacity of 6000 lbs or 2722 kg), yet AFC-Holcroft offers this size as one of its standard designs, with numerous installations of this size presently in operation.
"We've seen tremendous demand for on the part of manufacturers to continually improve control, quality, consistency and reduce distortion." stated Tracy Dougherty, Sales Manager at AFC-Holcroft. "The addition of these batch furnace lines will allow Mincon to increase production using brand-new equipment that meets their need for high quality and productivity. We're excited to be a part of their continued growth in the market."
AFC-Holcroft is one of the leading companies supplying heat treating furnaces; and as a global company, are able to support the customer's activities worldwide.
Mincon Group PLC was founded in 1977 in Shannon, Ireland. Mincon manufactures and distributes a range of precision engineered hard rock drilling tools for a variety of industries including Mining, Exploration, Waterwell, Geothermal, Construction, Horizontal Directional Drilling, Oil-Gas and Energy. They have invested heavily in modern manufacturing facilities in countries around the world including Ireland, USA, and Australia, which have been outfitted with the latest machinery - allowing Mincon to control all aspects of the production process.
Delivery of the line for Benton, Illinois took place in the first quarter of 2018, and Perth, Australia will follow at a later date.
About AFC-Holcroft:
Founded in 1916, AFC-Holcroft, is one of the US market leaders in the production of industrial furnace equipment for ferrous and non-ferrous metals. The company manufactures turn-key heat treating systems for applications including commercial heat treating, bearings, automotive, aerospace, mining, aluminum heat treatment, gear manufacturing, fastener manufacturing, and alternative energy industries.
Member of the Aichelin Group since 2016 and headquartered in Wixom, Michigan, AFC-Holcroft operates its own subsidiaries in China and Switzerland and has a global presence through a network of partners located in Australia, Brasil, China, India, Mexico, Poland and Spain.
About AICHELIN Holding:
The AICHELIN Group, as part of the BERNDORF Group of companies, is a manufacturer of industrial furnace equipment for different industry segments and provider of after-sale services. AICHELIN Group also operates in the field of induction heating and in the manufacturing of industrial gas burner systems. The group's production sites are located in
Austria, Germany, France, Slovenia, the US, China, and India. Altogether, the AICHELIN Group has 1,100 employees worldwide and ranges among the largest producers of heat treatment plants globally.
For more information, contact media@afc-holcroft.com.
Contact This Company Download Spec Sheet
More from Thermal & Heating Equipment