MIMOT's New 'Advantage X' Boosts Placement Rates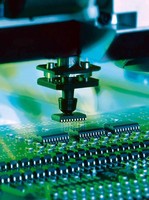 MIMOT's New 'Advantage X' Boosts Placement Rates

Irvine, California, USA - MIMOT's new 'Advantage X' enhancement package boosts placement rates by 15%. The retrofittable Advantage X upgrade is suitable for all MIMOT pick and place machines; it combines both hardware and software advances. It is especially beneficial for MIMOT high-mix pick and place systems, bringing the c/h rate to 24,000 for the full range of SMT devices from chip components to fine pitch.

Additional Advantage X features include an intelligent nozzle vacuum sensor, automatic polarity checks for feeder setup, and other software help tools.

The Advantage X will be a standard feature on all new MIMOT Advantage Systems. For information about upgrading older MIMOT systems, contact MIMOT USA.

MIMOT is a global leader in flexible SMT placement equipment, with facilities in Europe, Asia, and the Americas. MIMOT has led the industry in flexible, accurate placement technology for over 25 years, and builds its own board handling modules and precision dispensers as well as its placement machines. For more information, visit www.mimot.com, or contact

MIMOT North America
16 Technology Drive, Suite 133,
Irvine, California, 92618 USA;
Tel. (949) 727-4600,
Fax (949) 727-4687.

More from Mechanical Power Transmission