Milling System machines cast and malleable iron components.
Press Release Summary: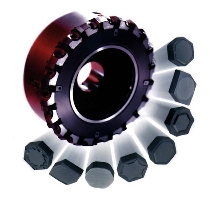 M750 Milling System, with silicon-nitride ceramic and coated-carbide grades, offers 2 milling cutter bodies in 6 diameters from 3.94 to 12.40 in. for 45° lead angle roughing and 30° lead angle roughing, roughing/finishing, and fine finishing. Number of inserts per cutter vary from 10 to 46, depending on design. Eight double-sided, hexagonal-insert styles are available in 6 different roughing and wiper top form geometries.
---
Original Press Release:
Valenite Introduces New M750 Milling System for High Production Machining of Cast and Malleable Irons

High-efficiency cutter designs combined with advanced silicon nitride ceramic and coated carbide grades provide a powerful and high-production milling system for gray cast irons, ductile cast iron, malleable irons and compacted-graphite cast irons.

Valenite continues to develop new milling products targeted to improve the machinability of iron and steel components. Most recently, the new Valenite M750 Milling System was introduced to improve milling capability on the types of malleable and cast iron components typically used by the automotive, truck and heavy equipment industries.

The M750 System offers two milling cutter bodies in six different diameter sizes for 45° lead angle roughing and 30° lead angle roughing, roughing/finishing, fine finishing, high-feed finishing, and high-speed finishing. Diameter sizes range from 3.94 to 12.40-inches. Number of inserts per cutter vary from 10 to 46, depending on the design. Axial adjustment anvils on the cutter bodies allow for easy, quick and accurate set-up for wiper style inserts. The variety of milling cutter designs permits the user to select the desired cutter performance based on productivity requirements, table feeds, need for higher speeds, tool life and set up time.

There are eight different double-sided hexagonal insert styles available in six different roughing and wiper top form geometries. These designs accommodate the heavy roughing, general purpose roughing, light duty roughing and finishing requirements of iron materials. The hexagonal insert design allows up to 12 indexes per insert.

Eight milling grades are available for roughing and finishing operations. These include: SM 403, SM 307 and SM 422 MTCVD TiN/TiCN/Al2O3 coated carbide; VC 918 PVD TiAlN coated carbide; THM uncoated carbide; Q6 hot pressed silicon nitride, and Q60 and Q65 microwave sintered silicon nitride.

Valenite is one of the largest manufacturers of industrial cutting tools in the world. Headquartered in Madison Heights, Michigan, Valenite has manufacturing, sales and service operations on five continents. Valenite offers a complete line of standard and special indexable-insert turning, threading, grooving, boring, milling and drilling products to a variety of industries. Valenite also manufacturers carbide die and wear parts, extruded carbide products, high-speed steel cutting tools, and electronic gaging systems. In addition, special high-production tooling for custom machining systems is produced under the MODCO® name. Valenite also markets the VALCOOL® line of cutting fluids.

For Further Information Contact:
Allan G. Hall
Kracoe Szykula & Townsend Inc.
2950 West Square Lake Rd., Suite 207
Troy, Michigan 48098
Telephone: 248-641-7500
Fax: 248-641-4779
E-Mail:[email protected]