Milara Debuts 2-D Post-Print Inspection Software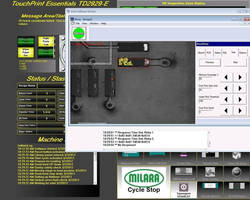 Medway, MA - Milara Incorporated, a leader in stencil printing technological innovation, introduces Vision System Alignment and 2-D Post-Print Inspection powered by Coherix.

The vision system provides two basic functions: fiducial location (used to align the PCB to the stencil in X/Y/Theta) and post-print inspection (used to detect over and under print), utilizing a high-resolution 1024 x 768 pixel resolution camera system.

The fiducial location function features state-of-the-art pattern recognition to locate fiducials on the PCB and stencil. Proprietary, multi-stage sub pixeling algorithms provide increased accuracy, and increased robustness is achieved with grayscale edge-based processing.

The post-print inspection function ensures proper solder paste application to the printed circuit board (PCB) with a field of view (FOV) of 63 mm2 and an inspection shot rate of < 220 milliseconds. Proprietary grayscale-based inspection makes it simple to detect excess solder paste (overprint) and insufficient solder paste (under print).

For more information about Milara's new Vision System Alignment and 2-D Texture Based Post Print Inspection Software, visit www.milarasmt.com.

Milara Inc. is a leading vendor of fully and semiautomatic stencil printers for SMT and semiconductor industries. Contact Milara at 4 Marc Rd., Medway, MA 02053; (508) 533.5322; Fax: (508) 533.8686; Web site: www.milarasmt.com.

More from Fluid & Gas Flow Equipment