Mikrotron Cameras Help Drug Dispenser Manufacturer Optimize Production Processes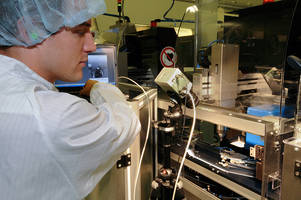 (Poway, CA) September 5, 2019 -- Based in La Verpillière, France, Nemera designs, develops and manufactures world-class drug delivery devices for the pharmaceutical, biotechnology and generic industries. Over the past decade Mikrotron imaging technology has supported Nemera's efforts for continuous improvement of its manufacturing processes by detecting machinery defects invisible to the human eye at the company's Neuenburg site in Germany.
One of four worldwide plants, the Neuenburg location produces innovative drug dispensing systems made of thermoplastics. Precision injection molded parts are assembled by rotary and linear high speed lines utilizing ultrasonic welding, automatic packing, and robots. 
Nearly a decade ago, the Nemera production team began to explore a more effective means of analyzing the rapid injection molding and assembly machinery in the Neuenburg plant, which had been malfunctioning at higher speeds without explanation. To overcome this problem the team began exploring ways to capture video images of the machinery operating, millisecond-by-millisecond, for analysis. This initiative is part of the company's Good Manufacturing Practices (GMP) that ensures that quality is built into the organization and processes involved in manufacturing. GMP at Nemera includes: control, quality, safety and effectiveness.
After researching several high-speed video cameras, three vendors were shortlisted including Mikrotron. Each vendor was asked to put their cameras through a battery of tests in identical scenarios. In the end, the Mikrotron MotionBLITZ® Cube high-speed camera was deemed best thanks to its sharp resolution, ease-of-mobility and built-in circular buffer that makes it possible to capture video without any connection to a PC. The camera also exceeded expectations with its modular software architecture and convenient internal triggering functions. The external control capability via machine signals also proved to be especially important, as did the unique ImageBLITZ auto trigger. ImageBLITZ reacts to specific changes in the image content and thereby captures even sporadically arising events quickly and accurately.
Improving Syringe Production
Within six months of purchasing the MotionBLITZ Cube high-speed camera Nemera employees had carried out more than 25 studies in various areas of production.
For example, one study at the time examined insulin syringe production. At production rates of approximately 200 pieces per minute, components were being damaged, leading to machine disruptions as well as costly waste. However, when the machines were programmed for slower production, everything functioned perfectly. The cause was not immediately apparent yet the insulin syringe components continued to be positioned incorrectly and damaged at the higher speeds.
High-speed imaging was able to provide clear evidence of cause and effect: the grippers simply opened too soon when operated at the 200 piece per minute rate. The machine's control signal was recorded simultaneously in each video frame by the MotionBLITZ, demonstrating how many milliseconds early the grippers had opened. Following this, the machine was reprogrammed, and in comparison to previous levels, efficiency was improved by 10%.
Early Recovery of Investment
Ongoing testing using the Mikrotron MotionBLITZ Cube has produced accurate time-based conclusions that were leveraged to adjust machines and achieve optimization. Today, a decade after purchasing the MotionBLITZ Cube, the camera continues to provide excellent service assisting in difficult situations.
Nemera's production manager commented: "The results far exceeded our expectations. In fact, the camera paid for itself a full two years prior to the scheduled amortization period."
Nemera uses the Mikrotron MotionBLITZ Cube as standard when it comes to installing new machinery and equipment to detect problems and sources of errors. In many cases, prior to purchasing machines, Nemera will go directly to the supplier and uses the MotionBLITZ Cube to inspect the system.
About Mikrotron GmbH
Mikrotron GmbH, established in 1976 and located just outside Munich, Germany, provides a full range of high-end imaging solutions for challenging applications in industry, engineering, science and sports. The company designs, produces, and commercializes high-speed and high-resolution cameras, image recording cameras and systems, software and image processing components. Mikrotron's slow-motion recording enables customers to optimize manufacturing processes, improve product design, revolutionize quality management and analyze motion. Mikrotron is ISO:9001 certified and in 2015 has been awarded the "Top Job" quality seal for its excellent human resource management. Mikrotron is operated as a business unit of Lakesight Technologies, and is part of TKH Group NV.
Contact:
Steve Ferrell
Mikrotron (North America)
T (858) 774-1176
steve.ferrell@mikrotron.de
Dan O'Connell
O'Connell Communications
T (708) 482-0212
dan@oconnellpr.com
More from Cleaning Products & Equipment