MIG Welding System generates 350 A at 100% duty cycle.
Press Release Summary: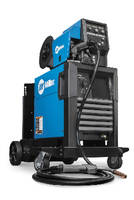 Offering optimized arc starts and arc stability, Continuum 350 features 2 welding processes. Versa-Pulse™ low-heat, low-spatter process delivers fast travel speeds for semi-automatic and automated welding on thin materials up to ¼ in. High-Deposition MIG process is intended for thicker materials and larger welds from 6–8 mm. Continuum 350 comes with Insight Core™ Internet-based welding information management system that monitors, collects, and transmits actionable data to Web-connected device.
---
Original Press Release:
Miller Expands Continuum(TM) Advanced Industrial System Offering, Adds New Process Capabilities and Optional Accessory
Equipment designed to take welding to the next level and provide a competitive edge through exceptional arc performance, unique processes and programs, and standard weld data gathering

APPLETON, Wis. — Miller Electric Mfg. Co. has expanded its Continuum™ advanced industrial MIG welding system offering, adding an additional power source option, new processes and programs, and information management capabilities to improve welding performance.

The latest addition to this offering — the Continuum 350 — provides 350 amps of power at 100 percent duty cycle and complements the Continuum 500 system previously introduced by Miller, which generates 500 amps at the same duty cycle. Both machines are designed to offer exceptional arc starts and arc stability to help welding operators of all skill levels create quality welds on both thick and thin materials.

The Continuum 350 and Continuum 500 both feature two new welding processes. Versa-Pulse™ is a fast, low-heat and low-spatter process that delivers faster travel speeds for semi-automatic and automated welding applications, also resulting in increased productivity. This process is ideal for welding on thin materials (up to 1/4 inch), such as sheet metal and tube applications, and offers a greater wire feed speed (WFS) range than short circuit or Regulated Metal Deposition (RMD®) processes. A High-Deposition MIG process offers higher deposition rates and lower heat input than standard spray transfer, resulting in faster welding, increased productivity and better quality. The process works well for welding thicker materials and on larger welds (6 to 8 mm). The systems both continue to offer Accu-Pulse™ pulsed MIG, RMD, MIG and flux-cored (FCAW) welding processes, along with air carbon arc capabilities. Miller has also expanded its weld program library (over 200 available) to allow companies to customize their applications to their exact needs.

The Continuum systems now come standard with Insight Core™, an Internet-based welding information management system that monitors, collects and rapidly transmits actionable data to any Web-connected device. Insight Core helps improve productivity and manage costs by tracking and reporting arc starts, arc-on time and quality performance based on amperage and voltage. Both Continuum systems are also compatible with Insight Centerpoint™, an optional advanced welding information management system that can be integrated into the power sources to provide real-time operator feedback and complete process control to maximize efficiencies in welding and fabrication applications.

A new optional accessory — the Continuum Swingarc™ single-wire model boom — is available in 8-, 12- or 16-foot heights to accommodate work on large weldments and hard-to-reach areas. The Swingarc boom provides 360-degree rotation and a 60-degree lift angle to maximize space by creating 16-, 24- or 32-foot diameter work areas. A unique counterbalance makes it easy to raise and lower the boom, and it automatically holds its position. In-boom cable routing organizes hoses and cables to prevent damage and to maintain an orderly work cell.

Both Continuum systems continue to feature user-friendly controls and system flexibilities, offering companies the ability to manage challenging jobs, adapt their weld cells to meet the demands of new applications and gain a competitive advantage as their fabrication and manufacturing needs evolve.

About Miller
Miller Electric Mfg. Co., headquartered in Appleton, Wisconsin, is a leading worldwide manufacturer of Miller brand arc welding products and is a wholly owned subsidiary of Illinois Tool Works Inc. (NYSE: ITW). For more information, visit www.MillerWelds.com, call 1-800-4-A-Miller (800-426-4553), email info@millerwelds.com, fax 877-327-8132, or write to Miller Electric Mfg. Co., P.O. Box 100, Lithonia, GA 30058.