MIG Welding Gun comes with choice of nozzles.
Press Release Summary: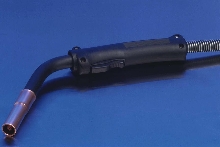 Lightweight Bantam 180 A MIG gun is suitable for companies that only weld occasionally or do not need more powerful gun. It uses series 11 contact tips in standard, H.D., and tapered configurations. Nozzles range from recessed insulated and flush to tapered and recessed.
---
Original Press Release:

American Torch Tip Produces New MIG Gun


The American Torch Tip Company has added a new 180 amp MIG gun to its product line.

The new gun, the Bantam, is a lightweight, low cost gun designed for companies that only weld occasionally or do not need a more powerful gun.

The gun uses series 11 contact tips in standard, H.D., and tapered configurations. Nozzles available range from recessed insulated and flush to tapered and recessed.

The Bantam will extend the ATTC MIG gun line, which includes the Lightning brands, from 180 amp to 500 amp, including 2, 3 and 400 amp models.

Photo: ATTC 180 amp MIG gun

Manufacturers OF Plasma, Laser, MIG, TIG, Oxy-Fuel, Thermal Spray and Multi-Use Parts
INT'L PH:. 941-753-7562; E-MAIL: sales@attcusa.com; WEB: americantorchip.com