Midwest Thermal-Vac Expands Capacity with TITAN® Furnace to Better Serve Nadcap and Medical Industry Customers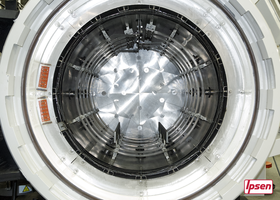 CHERRY VALLEY, IL – Nationally recognized commercial heat treater and repeat Ipsen customer, Midwest Thermal-Vac (MTV), recently purchased a TITAN® vacuum furnace with 12-bar gas quenching. This furnace features a diffusion pump for high-vacuum levels and an all-metal hot zone to ensure part cleanliness – an important feature for processing parts that need to comply with Nadcap and Medical industry requirements such as MedAccred. The TITAN is MTV's second Ipsen furnace; the first is a horizontal furnace used primarily for processing tool and die work.
The TITAN furnace features an all-metal hot zone measuring 18" x 24" x 18" (455 mm x 610 mm x 455 mm), with a 1,000-pound (450 kg) load capacity. It is capable of operating at temperatures ranging from 900 °F to 2,400 °F (482 °C to 1,316 °C) with ± 10 °F (±6 °C) temperature uniformity. This shipment also includes PdMetrics® software platform for predictive maintenance and Ipsen's startup service performed by local Field Service Engineers.
Ipsen's TITAN vacuum furnace is a platform product that sets the industry standard for quality equipment at a cost-conscious value. These heat-treating systems are available in several sizes with horizontal or vertical configurations, nitrogen or argon quench and graphite or all-metal hot zone construction. They are easy to operate and handle a variety of common heat-treating processes, making them an ideal choice for both new and repeat customers. Learn more at www.IpsenUSA.com/products.
About MTV
Founded in 1999, MTV is a leader in LPC vacuum carburizing and heat-treating for Aerospace, Commercial, Military and Motor Sports industries with quenching capabilities up to 23-bar. MTV can also fulfill needs for conventional solution, isothermal, spherodized or full annealing, homogenizing, normalizing, austenitizing and tempering tool steel. To learn more, visit www.mtvac.com.
About Ipsen
Ipsen designs and manufactures industrial vacuum and atmosphere heat-treating systems, supervisory controls systems and predictive maintenance software platforms for a wide variety of industries, including Aerospace, Automotive, Commercial Heat Treating, Energy and Medical. With production locations in America, Europe and Asia, along with representation in 34 countries, Ipsen is committed to providing 360° support for customers worldwide. Choosing Ipsen means choosing a partner in success.
Contact This Company Download Spec Sheet
More from Thermal & Heating Equipment