Mid-Mount Mowers offer adjustable cutting height.
Press Release Summary: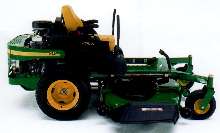 Model 777 and 797 Max-Frame Z-Trak(TM) Mowers are equipped with 27 hp, liquid-cooled Kawasaki engine and 29 hp, liquid-cooled Kawasaki engine with Digital Fuel Injection, respectively. They offer 1.5 x 3 in. tubular frame constructed with 7 gauge steel wall thickness. Wide-drive tires and wide caster wheels offer zero-turn-radius, while deep-deck design allows operators to mow at speeds to 11 mph. Both models accommodate 60 or 72 in. 7-Iron(TM) side-discharge deck.
---
Original Press Release:

John Deere 777 and 797 Max-Frame Z-Trak(TM) Mowers Boost Power and Expand Cutting Options for Better Productivity


Professional landscape contractors in need of a mid-mount mower with added power and wider deck options can look to the John Deere 777 and 797 Max-Frame Z-Trak(TM) Mowers. These machines combine high horsepower, larger deck options and zero-turn-radius technology, offering operators unmatched power, traction, maneuverability and productivity for various applications.

Both mowers have the power necessary to muscle through thick, lush mowing and mulching conditions. The 777 is equipped with a 27-hp, liquid-cooled Kawasaki engine, while the 797 is powered by a 29-hp DFI Digital Fuel Injection (DFI), liquid-cooled Kawasaki engine. The 797's DFI engine feature increases fuel efficiency by up to 20 percent.

Each mower has a 1.5- x 3-inch tubular frame, constructed with a 7-gauge steel wall thickness - making the frames some of the most durable in the industry. The wide frame increases traction in tough conditions such as hillside mowing, while wide-drive tires and wide caster wheels decrease ground compaction.

Both the 777 and 797 can accommodate either the 60- or 72-inch 7-Iron(TM) side-discharge deck. The deep-deck design increases airflow so more material can be processed and operators can mow at faster speeds (up to 11 mph), increasing productivity without affecting cut quality. A unique baffling system uprights the grass before cutting to produce a uniform cut and reduce the blowout usually associated with side-discharge chutes.

Adjusting the deck's mowing height is made easy with a best-in-class, foot-assisted lift with "dial-in" height of cut. In fact, operators don't even need to leave their seat. Operators simply depress a foot lever to raise the mower deck, turn a dial to their specified cutting height, and use the foot lever again to lower the deck back to its normal position. Eight different cutting height positions are available, ranging from 1.5 to 5 inches, in .25-in. increments.

Engineered for ease of serviceability, the 777 and 797 offer several key features that make daily and routine maintenance effortless. Belts are accessed by simply rotating up the foot platform, eliminating the need for tools. And the seat lifts up for easy access to the hydraulic components. Operators also have easy access to the engine, hydraulic oil drain and oil filters.

For increased maneuverability, the mowers feature responsive dual levers for forward, reverse and turning. Both zero-turn-radius mowers are also outfitted with a 12-U.S. gallon, single-fill, top-draw fuel tank as well as a large-capacity, two-U.S. gallon hydraulic oil reservoir. The mowers come standard with a heavy-duty, dual-element air filter.

With both models, the operator station offers ergonomically correct designs that increase comfort and reduce fatigue while mowing for long periods of time. For added convenience, all control levers are positioned at the operator's fingertips. The operator station also includes a tool and cup holder, left-hand park brake and wide-bend levers.

All John Deere commercial mowing equipment includes a two-year bumper-to-bumper, single source warranty.

Please forward sales inquiries to John Deere Inquiry Department, PO Box 13603, Research Triangle Park, NC 27709. Readers can also call 1-800-537-8233 or visit www.johndeere.com.

More from Laboratory and Research Supplies and Equipment