Mid-IR Spectrometer enables on-site verification of chemicals.
Press Release Summary: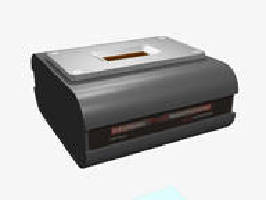 With InfraSpec VFA-IR Spectrometer, chemical and pharmaceutical samples can be analyzed at remote locations without having to transport them to centralized laboratory, eliminating delay to off-load raw material. Portable, variable filter array unit has no moving parts or optical path exposed to air, making it insensitive to environmental changes. With spectrometer's integrated ATR sample platform, sample is deposited on crystal and, in less than 1 minute, material is verified.
---
Original Press Release:

On-Site Verification of Chemical and Pharmaceutical Materials Using Portable Mid-IR Spectrometer



Verification of incoming raw materials is a key function in any manufacturing process. Since all organic molecules and most inorganic molecules have characteristic mid-infrared spectra, FT-IR spectrometers are widely used to check incoming shipments. Since it is impractical to position FT-IR instruments at loading docks, samples are generally sent to the analytical laboratory causing an inevitable delay.

Wilks Enterprise has introduced a small, portable variable filter array (VFA) mid-IR spectrometer that allows samples to be analyzed at remote locations without having to transport them to a centralized laboratory, eliminating the delay to off-load the raw material. The InfraSpec VFA-IR Spectrometer incorporates a patented design and has no moving parts or optical path exposed to air making it rugged, insensitive to environmental changes and less expensive than an FT-IR spectrometer.

Remote IR measurements with the InfraSpec Spectrometer provide the immediate information necessary for product verification to help improve overall chemical and pharmaceutical processing plant operating efficiencies. Facilities that receive railcar or truck loads of materials can quickly verify that each shipment actually contains the desired material before it is moved to the storage area. With the spectrometer's integrated ATR sample platform, the sample is deposited on the crystal and, in less than a minute, the material is verified. The InfraSpec Spectrometer includes a simplified pass/fail interface for non-technical users and also stores spectra that can be transmitted to a laboratory technician for review if necessary.

For further information on the InfraCal Biodiesel Blend Analyzers, please contact: Wilks Enterprise, Inc., 25 Van Zant Street, Ste. 8F, E. Norwalk, CT 06855 TEL: 203-855-9136; FAX: 203-838-9868; Email: info@wilksir.com; or the information can be downloaded from the Wilks website: WilksIR.com; http://www.wilksir.com/pdf/app_note-material-verification.pdf.

About Wilks Enterprise, Inc.

Headquartered in E. Norwalk, Connecticut, Wilks Enterprise specializes in easy-to-use, portable mid-infrared analyzers for specific measurement applications. All Wilks analyzers have been specifically designed for on-site use by non-technical personnel and are used for a wide variety of applications in the biofuels, environmental, petrochemical, quality control, and manufacturing industries. These portable analyzers enable analytical measurements to be made in the field, helping to eliminate the wait for off-site lab results.

For further press information or images, please contact Carol Tunick, VP - Marketing, at 203-855-9136 or email: ctunick@wilksir.com.

Wilks, InfraCal and InfraSpec are trademarks of Wilks Enterprise, Inc.