Mid-Density Foam Plank features up to 60% recycled content.
Press Release Summary: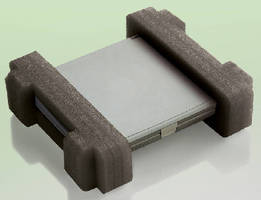 With density of 1.5 lb/ft³, resilient and non-abrasive PolyPlank® Renew(TM) provides alternative for foam plank cushioning applications desiring environmental benefits coupled with cushioning performance. Closed-cell polyethylene (PE) product contains up to 60% pre-consumer recycled content (regrind), is water resistant, and provides shock as well as vibration protection during product transport. It is available in widths up to 48 in. wide and thicknesses from ½-3 in.
---
Original Press Release:

Pregis Unveils Polyplank® Renew(TM), Plank Foam with up to 60% Recycled Content



Deerfield, Ill., November 9, 2008-Pregis Corp. is unveiling PolyPlank® Renew(TM), a new mid-density foam plank grade that contains up to 60% pre-consumer recycled content. The closed-cell polyethylene (PE) product is an ideal alternative for foam plank cushioning applications desiring environmental benefits coupled with excellent cushioning performance.

"PolyPlank Renew is one of two brand new sustainable product offerings we are unveiling at Pack Expo today. As we announced earlier in the year, Pregis is committed to developing new products which reduce environmental impact," says Josephine Lee, marketing director, Pregis Protective Packaging North America.

Because up to 60% regrind is used, the decreased dependence on 100% virgin resin contributes to the conservation of petroleum-derived raw materials.

The new addition to Pregis' PolyPlank® family will have a density of approximately 1.5 pounds for cubic foot (pcf). That positions Renew midway between existing 1.2 and 1.7 pcf alternatives.

"We also see this as ideal for products currently using higher-density foam plank for their cushioning requirements, but who may not really need that level of protection," explains Damon Georgia, regional sales manager, Pregis.

PolyPlank Renew is easy to fabricate, resilient and non-abrasive. PolyPlank PE foam provides excellent shock and vibration protection during product transport. It is also water resistant and has good flotation properties for recreational and sporting applications as well as good insulation properties where required. Renew is available up to 48-inches wide and in thicknesses ranging from ½- to 3-inches.

"PolyPlank Renew is the latest addition to the Pregis "green" family of products whose purpose is to address the growing need for sustainable packaging alternatives," Lee says. "Renew foam protects the environment through the reuse of scrap that would otherwise be diverted into the waste stream."

Market and product segments targeted by Renew include: medical diagnostic equipment; consumer electronics (such as monitors, computers, disc drives, radios, etc.); automotive (bumper, windshield packs, part separators, trim, etc.); recreational (seat cushions, surfboards, canoe and boat carriers, etc.); case inserts for (military applications, photographic equipment, storage/shipping); furniture, glass doors, vending machines and ATMs.

About Pregis:
Pregis Corporation is a leading global provider of innovative protective, flexible, and foodservice packaging and hospital supply products. The company offers packaging and product solutions for a wide variety of consumer and industrial market segments including food and foodservice, healthcare, agriculture, automotive, furniture, electronics, construction, fulfillment, catalog and military/aerospace. The specialty-packaging leader currently operates 47 facilities in 18 countries around the world. For more information about Pregis, visit www.pregis.com.

Please forward sales inquiries to:
Pregis Corp.
1650 Lake Cook Road, Ste. 400
Deerfield, IL 60015
Phone: (877) 692-6163
Email: protectivesales@pregis.com