Microwave Noise Figure Analyzer uses multiple technologies.
Press Release Summary: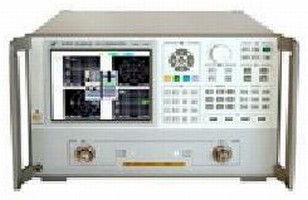 Featuring automatic operation, GAO3984 can measure noise figure and gain of linear and quasi-linear networks. It covers frequencies from 10 MHz to 26.5 GHz and offers multiple test bandwidths (100/200/400 kHz and 1/2/4 MHz). Featuring user-friendly UI that facilitates configuration, PC Windows-compatible unit offers various ports for peripherals and can use third-party software for additional functionality and peripheral interfaces.
---
Original Press Release:

Microwave Noise Figure Analyzer Released by GAO Tek



Toronto, ON - GAO Tek Inc. (http://www.GAOTEK.com) has added a Microwave Noise Figure Analyzer, model # GAO3984, to its line of instruments.

The GAO3984 Microwave Noise Figure Analyzer can measure the noise figure and gain of linear and quasi-linear networks automatically, rapidly and accurately. Therefore, it has wide application in the noise figure and gain testing of radar receivers and other receivers, as well as, components and elements such as microwave amplifiers, frequency mixers and attenuators.

The GAO3984 Microwave Noise Figure Analyzer has implements dozens of technologies and features wide frequency coverage, simple configuration, friendly user interface, multiple test bandwidths, high measurement speed, auto loading of ENR(Excess Noise Ratio and various ports for peripherals. Its comprehensive performance is advanced in the world. It is PC Windows compatible and can use a variety of third-party software to gain even more functionality and peripheral interfaces, such as all-Chinese interface, real-time online help, LAN and USB ports. As the best made-in-China microwave noise figure analyzer, this is the substitute of Agilent N8975A, which is one of the best similar analyzer in the world.

For more information, please refer to http://gaotek.com/index.php?main_page=product_info&products_id=1298

About GAO Tek Inc.
GAO Tek Inc. is a leading provider of test and measurement equipment, embedded development tools, telecommunication testers, electronic measurement instruments, video surveillance, alarm and other electronic products that serve the needs of electronic professionals internationally.

For more information please visit www.GAOTek.com.

GAO Tek Inc. is a member of GAO Group, which also includes
o GAO RFID Inc - www.GAORFID.com
o GAO Tek Inc.- www.GAOTek.com
o GAO Research Inc. - www.GAOResearch.com
o WowGao Inc. - www.WowGao.com
o GAO RFID Asset Tracking - www.GAORFIDAssetTracking.com
o GAO Embedded - www.GAOEmbedded.com
o GAO Instruments- www.GAOInstruments.com
o GAO Comm - www.GAOComm.com
o GAO Fiber Optics - www.GAOFiberOptics.com

Contact
GAO Tek Inc.
(416)-292-0038
sales@gaotek.com