Microwatt Laser leverages MOFA architecture.
Press Release Summary: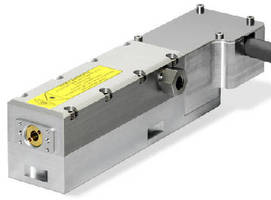 PicoSpark(TM) combines Passively Q-Switched (PQS) microchip laser technology with fiber amplification, resulting in multi-watt laser that generates picosecond pulses with hundreds of kilowatt peak power. Master Oscillator Fiber Amplifier (MOFA) architecture allows pulse width to stay constant, while user can vary pulse energy (or peak power) and repetition rate independently of each other. Requiring 350 W, versions are available at 1,064, 532, and 355 nm.
---
Original Press Release:

Teem Photonics Introduces New Picospark Microwatt Laser at Photonics West Expo this January



Chicago, December 8, 2008
Teem Photonics is the leader in passively Q-switched microlasers, which generate picosecond pulses with peak powers that can exceed 200kW and repetition rates as high as 70kHz. Wavelengths of operation are in the near infrared as well as the green and ultraviolet; applications include biophotonics, instrumentation, remote sensing, as well as micro-machining and marking. Teem Photonics USA is a wholly owned subsidiary of Teem Photonics S.A., in France, and will present its microlasers at Photonics West 2009 in San Jose, Calif., from Jan. 27 to 29, on the French Pavilion at booth 1609.

Teem Photonics is featuring PicoSpark(TM), which brings together Passively Q-Switched (PQS) microchip laser technology with fiber amplification, resulting in a multi-watt laser that generates picosecond pulses with hundreds of kilowatt peak power.

The PQS microchip laser is PicoSpark(TM)'s seed and sets the pulse width in the hundreds of picoseconds. The microchip laser output is coupled into a fiber amplifier, which serves as the gain stage.

This Master Oscillator Fiber Amplifier (MOFA) architecture allows the pulse width to stay constant, while allowing the user to vary the pulse energy (or peak power) and the repetition rate independently of each other.

PicoSpark(TM) produces pulses with energies of hundreds of microjoules at repetition rates of a few tens of kilohertz, providing average powers of several watts. Versions are available at 1064, 532, and 355 nm. PicoSpark(TM) is housed in a compact, turnkey package, with an output collimated in free space. It requires only 350 watts from a standard wall plug.

Applications:
- micro-machining
- LIBS (laser-induced breakdown spectrometry)
- material processing (drilling, scribing)
- marking on hard materials
- wafer dicing

For more information, please contact:

Teem Photonics USA
Jay Liebowitz
President
Tel.: (303) 325 5470
E-mail: j.liebowitz@teemphotonics.com

Teem Photonics S.A. (Headquarters)
61 Chemin du Vieux-Chene
Meylan 38246 Cedex
France
Tel.: +33 (0)4 76 04 05 06
Fax: +33 (0)4 76 04 03 02
Web: www.teemphotonics.com

or:

FRENCH TECHNOLOGY PRESS OFFICE
205 North Michigan Avenue, Suite 3740
Chicago, IL 60601
Fax: (312) 327-5261
E-mail: contact.ftpo@ubifrance.fr