Stepper Motor Controllers and Drives
Microstepping Motor Drive is 170 V bus, AC line-powered.
Press Release Summary: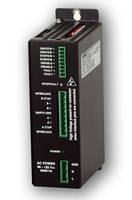 Capable of driving 4, 6, or 8 lead step motors, SD17040C provides switch selectable motor current of 1.0-4.0 A and 16 microstep resolutions, up to 50,800 steps/rev. It requires no additional power supply and has board-level components rated to 105°C. Measuring 2.1 x 4.0 x 6.2 in., compact drive offers panel or side mounting options and can be installed into tight spaces. Safety features include short circuit protection, automatic idle current reduction, and anti-resonance.
---
Original Press Release:

AMCI's Compact, Powerful Stepper Drive Beats Expectations



Terryville, CT July 8, 2009 - AMCI introduces a space saving, powerful, 170V bus, 4.0 Amp microstepping driver (http://www.amci.com/stepper-motor-control/stepper-motor-drive-sd17040C.asp). Standard features include switch selectable microstep resolutions, automatic idle current reduction, anti-resonance, short circuit protection, and overtemperature circuitry. No additional power supply is required, reducing overall costs, as the SD17040C is an AC line-powered drive (http://www.amci.com/stepper-motor-control/stepper-motor-drives.asp). The SD17040C can drive 4, 6, or 8 lead step motors, Nema sizes 23-42.

The SD17040C is designed to withstand demanding applications, with board-level components rated to 105°C (221°F). With panel or side mounting options, the SD17040C can be installed into tight spaces without supplemental fans or cooling aids. Thermal issues are no concern with this compact drive. The use of DSP (Digital Signal Processor) technology in combination with high quality transistors has enabled AMCI to customize the drive's performance for most applications, while also reducing space within the unit. The drive's exceptional power combined with anti-resonance circuitry delivers the smoothest, most reliable performance possible in a stepper motor system (http://www.amci.com/stepper-motor-control.asp).

AMCI's SD17040C microstepping driver offers several standard features from safety, to performance, to customization. Below is an overview of what this microstepping driver has to offer:

o Compact Size (2.1"W x 4.0"D x 6.2"H)

o 170V Bus, AC Line-Powered (No Additional Power Supply Required)

o Switch Selectable Motor Current, 1.0-4.0 Amps

o (16) Switch Selectable Microstep Resolutions, up to 50,800 steps/rev.

o Selectable Self-Test Feature

o Interlock Safety Feature and Short Circuit Protection

o Automatic Idle Current Reduction, Fully Programmable

o Anti-Resonance

AMCI's SD17040C stepper drive is 100% compatible with all of AMCI's stepper controllers and motors.

About Advanced Micro Controls Inc.

Founded in 1985, Advanced Micro Controls Inc (AMCI) (http://www.amci.com/distributors.asp) is a leading U.S. based manufacturer with a global presence. Our industrial controls improve the performance and profitability of today's factory and automation systems. AMCI specializes in the design, manufacturing, and sales of eight different product families. Long standing relationships with the biggest names in industrial automation enable our team to deliver innovative, competitive products that are designed for years of reliable performance.

Media Contact: Bob Alesio

Telephone: (860) 585-1254 ext.128

Email: balesio@amci.com

Advanced Micro Controls Inc.
20 Gear Drive
Plymouth Industrial Park
Terryville , CT 06786 USA
Telephone: (860)-585-1254
Facsimile: (860) 584-1973
http://www.amci.com

More from Fluid & Gas Flow Equipment