Microstepping Drivers feature input and output isolation.
Press Release Summary: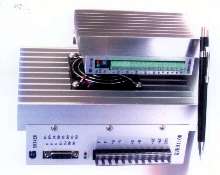 Microstepping drivers are offered for 2-phase stepper motors up to and including NEMA42 frame sizes. Bi-polar drivers are opto-isolated to protect system and motor. Model Q2HB110M provides 0.5-8.0 A per phase, 200 steps-per-step, and requires single 60-130 Vac supply. Model Q2HB68MG provides 0.5 to 6.0 A per phase and requires 24-80 Vdc supply. Both drivers feature 200,000 pps step rate. Drivers are suitable for appliances, consumer products, and medical testing equipment.
---
Original Press Release:

Low Cost, High Resolution, High Current Microstepping Drivers for OEMs!


Santa Clara, CA- Source Engineering (SEI) has introduced two new high performance microstepping drivers designed and manufactured to meet the "Price-Performance" requirements of OEMs. With the introduction of these drivers, OEMs no longer have to pay a premium or build their own to get a high quality microstepping driver for 2 -phase stepper motors up to and including NEMA42 frame sizes. Additionally these Bi-polar drivers are opto-isolated (inputs and outputs) to protect the system and motor, and feature: Status Indicator Lights, Over Heat, Over Current, Over Voltage Protection, Constant Current
Control, and Automatic Idle Current Control.

The 0.5 to 8.0 A per phase Q2HB110M microstepping (200 steps-per-step) driver requires a single 60 to 130 VAC supply and the 0.5 to 6.0 A per phase Q2HB68MG microstepping (200 steps-per-step) driver requires a 24 to 80 VDC supply. Both drivers feature a high (200K pps) step rate. All switches and settings are readily accessible and when required, mating connectors are supplied. These drivers are ideally suited for appliances, consumer products, graphics equipment, scanners, mirror positioning, semiconductor manufacturing and testing, pick-and-place, circuit board testing, robotics, toys, rotary and linear positioning stages, medical testing equipment, and assembly operations.

Source Engineering, Inc. located in Santa Clara, CA is also a supplier of brushless and brush-type motors, stepper motors, induction motors, optical encoders, gear boxes, gearmotors, amplifiers, universal power supplies, optical lenses cable harnesses and moulded cables, and reflectors to OEM's. Other products and services include: Machined parts, injection moldings, die cast and aluminum extrusions, precision machining and turnkey mnanufacturing solutions.

For more information, call or fax Mr. Robert Thompson, Application Engineer, at Source Engineering, Inc., 3283-H De La Cruz Blvd., Santa Clara, CA, 95054, Tel: 408-980-9822,
Fax: 408/980-1860 or visit our Web site at www.sei-automation.com

More from Software