Microsemi Adaptec 1100 Series Host Bus Adapters are equipped with 28 nm storage controller.
Press Release Summary: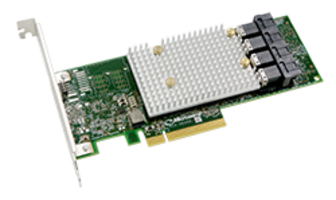 Microsemi Adaptec 1100 Series Host Bus Adapters are suitable for software-defined storage, cold storage and high-performance connectivity applications. Units offer speed of 12 gigabits per second and are offered in port configurations from 4 to 24 ports. Products are ideal for data centers, server original equipment manufacturers and server original design manufacturers.
---
Original Press Release:
Microsemi Announces Adaptec Smart Storage Adapter Support for Cavium ThunderX2 ARM-Based CPUs
Collaboration Provides Low Power, High Performance Storage Connectivity Solution for ARM-Based Server Deployments
Microsemi Corporation (Nasdaq: MSCC), a leading provider of semiconductor solutions differentiated by power, security, reliability and performance, today announced interoperability between its 12 gigabits per second (Gbps) SAS/SATA host bus adapter (HBA), the Microsemi Adaptec HBA 1100, part of its new Smart Storage adapters portfolio, and Cavium™, Inc.'s (NASDAQ: CAVM), ThunderX2™ ARM-based central processing unit (CPU). Data center customers looking for a storage adapter solution for Cavium ThunderX2 deployments to support high performance SAS/SATA connectivity can now deploy the Microsemi Adapter HBA 1100 with confidence as a fully qualified end-to-end solution.
"Extensive interoperability testing between Cavium and Microsemi make our Adaptec HBA 1100 the ideal storage solution for Cavium ThunderX2 server deployments," said Andrew Dieckmann, vice president of marketing for Microsemi. "ARM-based processors are increasingly being considered for next-generation server deployments in the data center due to their performance and power profile advantages for specific data center workloads; this collaboration with Cavium provides data centers with the confidence to make Microsemi their first call when looking to adopt Cavium ThunderX2-based servers."
According to research firm IDC, the ARM-based server processor market will grow to 10 percent of all server processors shipped by 2021. The Microsemi Adaptec HBA 1100, which leverages the company's unified Smart Storage Stack, is optimized for software-defined storage (SDS), cold storage and other raw high-performance connectivity applications for data centers, server original equipment manufacturers (OEMs) and server original design manufacturers (ODMs) due to its high performance and flexibility. It provides adapters in a range of port configurations, from 4 to 24 ports, and takes advantage of Microsemi's latest 28 nm storage controller, the SmartIOC 2100, offering great flexibility and an optimal power profile for these target applications. It also offers support for host-managed and host-aware shingled magnetic recording (SMR) drives as well as broad operating system (OS) driver support, including inbox driver support.
"It is an exciting time in the server processor market, as application workloads continue to become more diverse and performance-intensive," said Larry Wikelius, vice president Software Ecosystem and Solutions Group at Cavium. "Data centers are looking at the Cavium ThunderX2 to deliver the required performance for cloud and high-performance computing (HPC) deployments, and we are pleased to now offer Microsemi's Adaptec HBA 1100 as part of our solution set when external connectivity or fan out to internal drives is required."
Cavium collaborates with Microsemi as part of Microsemi's Accelerate Ecosystem, which facilitates collaboration between Microsemi and leading firms in the semiconductor integrated circuit (IC), intellectual property (IP), systems, software, tools and design spaces to integrate, test and deliver pre-validated designs and system-level solutions for end customers in Microsemi's key vertical markets—aerospace and defense, data center, communications and industrial. The Accelerate Ecosystem is designed to reduce time-to-market for end customers and time-to-revenue for Microsemi and ecosystem members via technology alignment, joint marketing and sales acceleration. Learn more at https://www.microsemi.com/product-directory/4194-partners.
The Microsemi Adaptec Smart Storage adapters deliver high performance, low power, reliability and feature-rich solutions tailored to a variety of server storage applications. The combination of the company's Unified Smart Storage Stack, SmartRAID and SmartHBA, HBA product families and Microsemi's SXP family of SAS expanders provide a complete server solution for storage management and connectivity.
Product Availability
Microsemi's HBA 1100 series board-level product family is available in volume production quantities now. For more information, visit www.microsemi.com/smartstorage or contact sales.support@microsemi.com.
About Microsemi's Product Portfolio for Hyperscale Data Center
Microsemi is a premier supplier of innovative semiconductor, board, system, software and services for enterprise and hyperscale data centers, enabling high performance, secure, low power and reliable infrastructure for scalable deployments. Microsemi technologies drive innovation in applications including storage systems, server storage, NVM solutions, Ethernet switching, rack scale architecture, data center interconnect, network timing and power subsystems. Building on a track record of technology leadership, Microsemi's data center infrastructure portfolio is transforming networks that connect, store and move big data, while lowering the total cost of ownership of deploying next generation services.
The portfolio includes high performance NVMe storage controllers, NVRAM drives, SAS/SATA host bus adapters and RAID controllers enabling high capacity storage architectures, high density PCIe switching and firmware for rack scale architectures, PCIe re-drivers, and Ethernet PHYs for intra-rack connectivity. Microsemi's product portfolio also includes clock and power management, IEEE1588 integrated circuits (ICs) and NTP servers for synchronization across the data center, as well as field programmable gate arrays (FPGAs) and system-on-chip (SoC) FPGAs to perform secure system management of servers and storage. For more information, visit http://www.microsemi.com/applications/data-center.
About Microsemi
Microsemi Corporation (NASDAQ: MSCC) offers a comprehensive portfolio of semiconductor and system solutions for aerospace & defense, communications, data center and industrial markets. Products include high-performance and radiation-hardened analog mixed-signal integrated circuits, FPGAs, SoCs and ASICs; power management products; timing and synchronization devices and precise time solutions, setting the world's standard for time; voice processing devices; RF solutions; discrete components; enterprise storage and communication solutions, security technologies and scalable anti-tamper products; Ethernet solutions; Power-over-Ethernet ICs and midspans; as well as custom design capabilities and services. Microsemi is headquartered in Aliso Viejo, California, and has approximately 4,800 employees globally. Learn more at www.microsemi.com.
More from Optics & Photonics