Microplate Heat Sealer heats up in under 10 minutes.
Press Release Summary: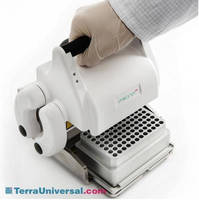 Protecting plates from contamination when they need to be stored or incubated, Microplate Heat Sealer applies a fast, airtight seal around the outer edges of each microplate well, to lock-in the liquid. With an LED indicator light that alerts the user when the sealer is ready to seal, device distributes fixed-temperature heat (170°C; 338°F) uniformly around the plate. Sealer also includes with peelable, pierceable foils and films.
---
Original Press Release:
Microplate Heat Sealer Offered by Terra Universal
Foil-seal PCR plates and standard 96-well or 384-well microplates with the MicroTS Microplate Heat Sealer from Vitl Life Science Solutions. When plates need to be stored or incubated, or experiments need to carry over to the next day, samples and reagents need protection from contamination or well carry-over. The MicroTS allows a fast, airtight seal around the outer edges of each microplate well to lock-in the liquid.

MicroTS is a compact and portable heat-sealing solution. The sealing action is fast and ergonomic: load an adapter place, the microplate, and then press downward for a few seconds. The sealer heats up to target temperature in under 10 minutes, and an LED indicator light illuminates when the MicroTS is ready to seal. Fixed-temperature heat (170°C; 338°F) is distributed uniformly around the plate, maintaining the integrity of the experiment. Resealing or plate rotation are not necessary.

Sealing foils are available color-coded, or select a clear film to maintain visibility of well contents. To access the wells, either pipette right through the foil/film or peel it off. The peelable, pierceable foils and films are made of polypropylene, polyethylene or cyclic olefin copolymer (COC).

Laboratory-Equipment.com, a Terra Universal brand, offers hundreds of top-tier laboratory instruments and supplies. Learn more about the MicroTS Compact Microplate Heat Sealer from Vitl Life Science Solutions by visiting Laboratory-Equipment.com.

Contact:

Evan Messenger
Terra Universal: Marketing
Phone (714) 578-6000
Evan@TerraUniversal.com
More from Communication Systems & Equipment