Micromeritics Mercury QuikVac - A Compact, Low-Cost Alternative for Containing Mercury Spills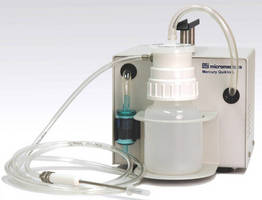 For many years, mercury has been used in a number of products, processes, and laboratory operations. Mercury is universally regarded as a hazardous material. Health and safety regulations require that anywhere mercury is used, a means of managing spillage and human exposure must be provided.

Micromeritics' Mercury QuikVac is an excellent low-cost method for quickly containing mercury spills. The device is designed to be specifically useful in collecting those elusive mercury droplets and small mercury-contaminated particulate matter. Its compact size and light weight make it ideal for laboratory applications. Mercury is collected in a 250-mL recovery vessel and a replaceable 0.3 - 0.5 micron activated carbon filter assures that the device exhausts clean, safe air.

http://www.micromeritics.com/Repository/Files/mercury%20quikvac.pdf

For more information contact:
Patrick Lennox
Marketing Communications Manager
Micromeritics Instrument Corporation
4356 Communications Drive
Norcross, GA 30093 USA
(770) 662-3688
(770) 662-3696 Fax
www.micromeritics.com

Micromeritics manufactures automated analytical laboratory instruments that measure physical characteristics of powder and solids for fundamental research, product development, quality assurance/control, production, and process control applications. Measurements obtained include particle size, particle shape, surface area, pore volume, pore size and pore size distribution, material density, catalytic activity, and temperature-programmed reactions.

More from Controls & Controllers