Micromachining Workstation allows laser writing/patterning.
Press Release Summary: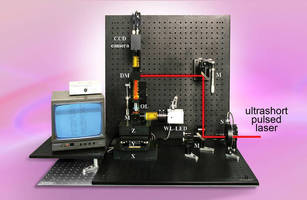 Micromachining workstation can be coupled with continuous-wave, nanosecond, and femtosecond lasers to produce 2D or 3D patterning and writing on any material. Able to work on surfaces of semiconductors, dielectrics, and biocompatible materials, it features high-precision linear stages supporting submicron resolution. User interface enables creation of diverse patterns while integrated software lets researchers collect and analyze related data.
---
Original Press Release:

Newport's New Micromachining Workstation for Laser Direct-Write Processing



Irvine, CA - September 24, 2009 - Newport Corporation, a worldwide leader in laser and photonic solutions, introduces the new micromachining workstation specifically designed for high precision laser direct-writing (LDW) and patterning. The flexible device can be integrated with several lasers to produce 2- or 3-dimensional patterning and writing on virtually any material. It is simple to assemble and easy to couple with continuous-wave (CW), nanosecond (ns), and femtosecond (fs) lasers. The advanced workstation can also be used to produce submicron resolution on significantly large surface areas of the substrates.

The micromachining workstation can be customized with different lasers to perform surface and volume patterning in semiconductors, dielectrics, and biocompatible materials. The workstation configuration includes high precision linear stages which allow laser direct-writing with sub-micron resolution. This solution is primarily designed for prototyping of complex 2- and 3-dimensional microstructures in diverse fields such as photonics, microelectronics, and tissue engineering.

Newport's new workstation utilizes standard optics, opto-mechanics, motorized motion, and up-to-date laser products to provide high performance and accuracy. Its user-friendly interface allows the user to create diverse patterns on many substrates and the intuitive software allows the researcher to easily collect and analyze the data. Newport also offers a detailed list of compatible parts that can be used to customize the workstation to meet the users' specific application requirements.

Keshav Kumar, Product Marketing Manager, Optics & TAC Products, Newport Corporation, notes, "Our new micromachining workstation is a preconfigured solution for the researcher. It integrates the existing photonics components using proven physical principles associated with two-photon polymerization (TPP) which will provide better control over materials structuring on a very precise level. We are proud to introduce this exciting new, easy-to-use and economical solution to the research community."

For more information about Newport's Micromachining Workstation for LDW Processing, please visit: http://www.newport.com/LDW.

About Newport Corporation

Newport Corporation is a leading global supplier of advanced-technology products and systems to customers in the scientific research, microelectronics manufacturing, aerospace and defense/security, life and health sciences and precision industrial manufacturing markets. Newport's innovative solutions leverage its expertise in high-power semiconductor, solid-state and ultrafast lasers, photonics instrumentation, sub-micron positioning systems, vibration isolation, optical subsystems and precision automation to enhance the capabilities and productivity of its customers' manufacturing, engineering and research applications. Newport is part of the Standard & Poor's SmallCap 600 Index and the Russell Microcap Index.

Company Contacts:

Kim Abair

Director of Global Marketing

Tel: 800-222-6440

E-mail: kim.abair@newport.com

Keshav Kumar

Product Marketing Manager, Optics & TAC Products

Tel: 949-253-1717

E-mail: keshav.kumar@newport.com

More from Material Processing