Microcontroller targets MFP devices.
Press Release Summary: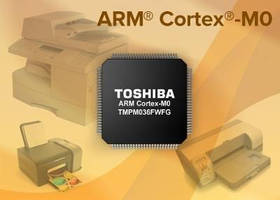 Built around ARM® Cortex®-M0 processor, Model TMPM036FWFG is specifically designed for use in multifunction peripheral devices and printers. Microcontroller incorporates 8-channel communication interface, 14-channel 16-bit timer, 128 KB of Flash, and 16 KB of SRAM. Housed in 14 x 14 mm LQFP 100-pin package, device operates from 2.3–3.6 V with max frequency of 20 MHz.
---
Original Press Release:

Toshiba Expands Lineup of ARM Cortex-M0-Based Microcontrollers for Multifunction Peripherals and Printers



With more communication and timer-function channels, MCUs help optimize system design



SAN JOSE, Calif., – Toshiba America Electronic Components, Inc. (TAEC)*, a committed leader that collaborates with technology companies to create breakthrough designs, today announced the latest addition to its TX00 series of microcontrollers (MCUs) built around the ARM® Cortex®-M0 processor. The new TMPM036FWFG is specifically designed for use in multifunction peripheral (MFP) devices and printers. As the Cortex-M0 is the smallest available ARM processor [1, the TX00 series MCUs are well suited for use in these and other end products in which both small footprint and low power consumption are essential.



"Developers require MCU 'brains' with high functionality that can cost-effectively deliver 32-bit performance and ultra-low component count," said Deepak Mithani, senior director, Mixed-Signal Business Unit, System LSI Group at TAEC. "This new addition to the Toshiba TX00 series - part of our robust line of microcontroller offerings - broadens the options available to our customers developing new generations of MFPs and printers that demand higher functionality options in the same small, low-power device."



In MFP and printer applications, the microcontroller must communicate with the main control unit and onboard peripherals units. It also needs a timer function that can output pulses to control stepping motors and DC motors. An increase in the number of channels for both functions is key to developing more fully featured MFPs and printers.



The TMPM036FWFG offers two more communication and four more timer function channels than Toshiba's current product offering in this family. The TMPM036FWFG incorporates an 8-channel communication interface and a 14-channel 16-bit timer. Developers can select the optimum microcontroller from the product family according to the system scale or usage from these two products.



The TMPM036FWFG's ARM-Cortex-M0 processor allows use of the same development environment system as for Toshiba's current ARM Cortex-M-based TX03/TX04 series. This can improve the cost-efficiency of system development and enable the device to be designed into other appropriate end products such as consumer electronics and digital and industrial equipment.



Housed in a 14mm x 14mm LQFP100-pin package, the TMPM036FWFG features a maximum operating frequency of 20 MHz, a built-in 8-channel communication interface (6-channel SIO/UART; 2-channel I(2)C), and a built-in 14-channel 16-bit timer. Operating voltage ranges from 2.3 to 3.6V, and available internal memory is 128Kybtes of Flash and 16 Kbytes of SRAM.



Availability

Sample shipments of the new TMPM036FWFG microcontroller will commence in March 2015.



1.  As of February 19, 2015. Depends on style chosen.



ARM and Cortex are registered trademarks of ARM Limited (or its subsidiaries) in the EU and/or elsewhere. All rights reserved.



*About TAEC

Through proven commitment, lasting relationships and advanced, reliable electronic components, Toshiba enables its customers to create market-leading designs. Toshiba is the heartbeat within product breakthroughs from OEMs, ODMs, CMs, VARs, distributors and fabless chip companies worldwide.  A committed electronic components leader, Toshiba designs and manufactures high-quality flash memory-based storage solutions, solid state drives (SSDs), hard disk drives (HDDs), solid state hybrid drives (SSHDs), discrete devices, custom SoCs/ASICs, imaging products, microcontrollers, wireless components, mobile peripheral devices, advanced materials and medical tubes that make possible today's leading smartphones, tablets, cameras, medical devices, automotive electronics, industrial applications, enterprise solutions and more.



Toshiba America Electronic Components, Inc. is an independent operating company owned by Toshiba America, Inc., a subsidiary of Toshiba Corporation, Japan's largest semiconductor manufacturer and the world's sixth largest semiconductor manufacturer (Gartner, 2014 Worldwide Semiconductor Revenue Estimates, December 2014). Founded in Tokyo in 1875, Toshiba is at the heart of a global network of over 590 consolidated companies employing over 200,000 people worldwide. Visit Toshiba's web site at www.toshiba.co.jp/index.htm.



© 2015 Toshiba America Electronic Components, Inc. All rights reserved.

Information in this press release, including product pricing and specifications, content of services and contact information, is current and believed to be accurate on the date of the announcement, but is subject to change without prior notice. Technical and application information contained here is subject to the most recent applicable Toshiba product specifications.



COMPANY CONTACT:

Deborah Chalmers

Toshiba America Electronic Components, Inc.

Tel.: (408) 526-2454

deborah.chalmers@taec.toshiba.com

More from Chemicals & Gases