Microcontroller features 40 MIPS, single-cycle 8051 core.
Press Release Summary: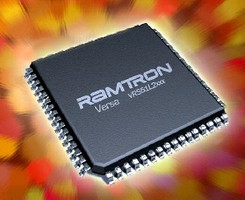 Suited for embedded data acquisition, sensor, and control applications, Versa Series VRS51L2xxx SoCs feature JTAG program/debug interface, DSP extensions, MULT/ACCU/DIV unit with 32-bit barrel shifter for DSP calculations, and 40 MHz internal oscillator. Communication peripherals include configurable serial port interface, 2 UARTS with baud rate generators and micro baud adjustment, up to 14 timers/counters, I²C, 8 pulse width modulators, and 2 pulse width counter modules.
---
Original Press Release:

Ramtron Previews High Performance Versa 8051 MCU At The 2006 Embedded Systems Conference In San Jose, California



Fast and flexible SoC is a cost-efficient alternative to the 16-bit MCU

COLORADO SPRINGS, CO - April 3, 2006 - Ramtron International Corporation (Nasdaq: RMTR), a leading developer and supplier of nonvolatile ferroelectric random access memory (FRAM) and integrated semiconductor products, today announced that it will preview its new VRS51L2xxx, a fast and flexible 8051-based microcontroller (MCU), at the Embedded Systems Conference in San Jose, California, April 4-6, 2006 at booth number 3113.

The VRS51L2xxx, which is the newest series in the Versa 8051 MCU family, is a fully integrated, high performance system-on-chip with an advanced 40-MIPS, single cycle 8051-core, a JTAG program/debug interface, digital signal processing (DSP) extensions and a robust digital peripheral set. Designed for embedded data acquisition, sensor and control applications in the industrial, medical, consumer, instrumentation and automotive markets, the VRS51L2xxx provides the processing power and speed to compete with a 16-bit MCU, without having to migrate from an 8-bit device.

"The Embedded Systems Conference is the ideal forum to preview our new high performance 8051s to design engineers and journalists," said Irv Lustigman, General Manager of Ramtron Canada. "The VRS51L2xxx is the first in a series of exciting developments we have planned for our Versa 8051 and Versa Mix 8051 MCU product lines."

Benefit with a high performance Versa 8051 MCU
The VRS51L2xxx upgrades 8051-based systems without a costly investment in new architecture, code and development environment. Its features include an enhanced MULT/ACCU/DIV unit with 32-bit barrel shifter for quick DSP calculations, a cost-cutting, 40 MHz precision internal oscillator, and communication peripherals such as a highly configurable serial port interface (SPI), 2 universal asynchronous receiver-transmitters (UARTs) with baud rate generators and micro baud adjustment, up to 14 timers/counters, an I²C, 8 pulse width modulators (PWM), 2 pulse width counter (PWC) modules and more.

The VRS51L2xxx is expected to begin sampling in early May, 2006.
For more information about Ramtron products, please visit www.ramtron.com.

About Ramtron
Ramtron International Corporation, headquartered in Colorado Springs, Colorado, is a fabless semiconductor company that designs, develops and markets specialized semiconductor memory, microcontroller and integrated semiconductor solutions used in a wide range of product applications and markets worldwide. Additionally, Ramtron works with various leading-edge licensees and manufacturers to bring its technology to market.

CONTACT: Catherine Cohen
(514) 871 - 2447, 112
catherine.cohen@ramtron.com