Microcontroller connects to CAN bus.
Press Release Summary: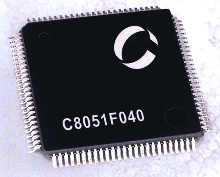 C8051F040 mixed-signal microcontroller has analog and digital peripherals, pipelined 8051 CPU, 64K bytes programmable FLASH and 4352 bytes RAM, and CAN 2.0B network controller. Peripherals include two 12-bit DACs, 12-bit 100 kSPS ADC, ±60V common mode input range programmable gain difference amplifier, comparators, reference, and temperature sensor. Controller is packaged in 100 or 64 pin TQFP. It has 2 UARTs, SPI® bus, and SMBus® serial interfaces.
---
Original Press Release:

Cygnal Releases Mixed-Signal Flash Microcontroller with Integrated CAN Bus and High Voltage Amplifier


August 5, 2002 - AUSTIN, TX - Cygnal Integrated Products, Inc. today announced the C8051F040, a highly integrated mixed-signal Flash microcontroller with CAN bus connectivity suitable for industrial control, smart sensor, and data acquisition applications on a multitude of CAN networks.

"The C8051F040 combines a comprehensive set of analog and digital peripherals with Cygnal's High-Speed CPU and FLASH memory," said Danny Allred, Director of Product Marketing for Cygnal. "With CAN 2.0B connectivity, this product offers an outstanding feature set for industrial automation and smart sensor applications."

The C8051F040 gives system designers remarkably powerful and flexible features. It has an integrated CAN 2.0B controller with 32 message objects, each with its own filter mask. Integrated analog peripherals include two 12-bit DAC's, a 12-bit 100KSPS ADC, a ±60V common-mode input range programmable gain difference amplifier, comparators, reference, and a temperature sensor.

A pipelined 8051 CPU, delivering up to 25MIPS at 25MHz, provides abundant compute capability. Two UART's, SPI® bus, and SMBus® serial interfaces are included. On-chip memory resources consist of 64K bytes in-system programmable FLASH and 4352 bytes RAM. Integrated on-chip JTAG debug circuitry eliminates the need for large profile sockets and expensive in-circuit emulators, further reducing system development time and cost.

Packaged in either a 100-pin or 64-pin TQFP, C8051F040 family devices start at $16.05 in 1,000 piece quantities. The C8051F040DK is a complete development suite with capabilities typical of in-circuit emulators. Both development kits and chips are available for purchase direct from Cygnal at cygnal.com.

About Cygnal
Founded in March 1999, Cygnal Integrated Products, Inc. of Austin, TX. designs, manufactures and markets advanced in-system programmable, mixed signal system-on-chip (SoC) products and associated support tools. These unique products embody the Company's no-compromise attitude and distinguished technical skill base integrating world-class analog, high-speed digital and FLASH memory functions into a single powerful chip. The combination of mixed-signal integration and in-system programmability offers tangible user benefits through higher component integration, greater design flexibility, faster time-to-market, superior system performance and improved end product differentiation. Cygnal products deliver advanced application solutions expressly designed to address a broad range of markets including communications systems, industrial equipment and consumer products. Technical information is available and orders are accepted at the Company's e-commerce site at cygnal.com.

Cygnal and cygnal.com are trademarks of Cygnal Integrated Products, Inc. SPI is a trademark of Motorola, Inc. SMBus is a trademark in Intel Corp.

Company Contact
Don Alfano
Cygnal Integrated Products, Inc.
4301 Westbank Drive
Building B, Suite 100
Austin, Texas 78746
512.327.7088 x205
dalfano@cygnal.com

Related