Micro LIAD Color Feeder comes with updated software.
Press Release Summary: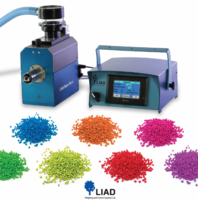 Designed with additional valve in venture loader assembly beneath the receiver, ColorSave-Micro LIAD Color Feeder System is offered with new weighing card and coils for better accuracy and stability. Product comes with mechanical changes in dispenser for preventing material sticking.
---
Original Press Release:
Carolina Color Corporation Announces New Upgrades to ColorSave-Micro LIAD Color Feeder Product Line, to Further Control Costs
Carolina Color, a LIAD distributor in the USA, has helped G2 / G3 customers install LIAD color feeder systems, ensuring that they have the most advanced color concentrate technology. Along with LIAD precise dosing equipment to control coloring costs. LIAD upgrades provide customers with reduced material drip/sticking, improved accuracy and stability, and a shorter convergence with software updates.
The LIAD ColorSave-Micro color feed's new upgrades include:
An additional valve in the venturi loader assembly, beneath the receiver, ensures no material drip from the receiver during normal operation
Mechanical changes, mainly in the dispenser, keeps the material flowing and prevents material sticking
Weighing card changed to a different model to help achieve better accuracy
The coil has been changed to provide additional energy and better stability
Modified software achieves shorter convergence
About LIAD
LIAD blenders, feeders, and quality control technologies are helping plastics manufacturers improve their efficiency. Used in factories across the globe, LIAD innovation is the key to growth in the plastics industry.
For more information about LIAD, visit www.liad.co.il
About Carolina Color
Carolina Color's G2 and G3 product lines have proven performance in diverse applications, including packaging, industrial, non-automotive transportation, and much more. Convertors are impressed by this game-changing technology. Whether it is injection, extrusion, rotational, structural foam, blow, sheet, pipe, or profile molding, G2 and G3 products consistently hit the mark.
For more information about G2 and G3, visit: www.carolinacolor.com.
More from Test & Measurement