Micro Hole Drilling Service uses UV lasers.
Press Release Summary: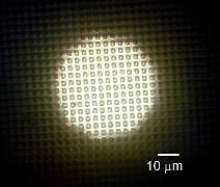 Utilizing UV excimer and DPSS lasers with wavelengths from 157-355 nm, JPSA provides contract hole drilling in glass, silicon nitride, quartz, III-V materials, metals, polymers, ceramics, and sapphire. Holes range from 1 micron to 2 mm in diameter and can be drilled in materials up to 2 mm thick in certain applications. In addition to aligning holes to pre-existing features, company can create shaped, blind, through, tapered holes, slots, and vias.
---
Original Press Release:

JPSA Announces UV Laser Micro Hole Drilling Services


Hollis, New Hampshire, USA - J P Sercel Associates (JPSA) announces contract hole drilling in a wide range of materials including glass, silicon nitride, quartz, III-V materials, metals, polymers, ceramics, sapphire, and others in its high-volume, production laser job shop. JPSA 's UV excimer and DPSS lasers utilize a range of UV wavelengths from 157nm to 355nm, and can drill smooth, straight or tapered holes depending on the application required. Holes can be drilled in most materials up to 2mm thick in certain applications. Hole sizes range from 1 micron in diameter up to 2 mm diameter (in thin materials); JPSA can align holes to pre-existing features, can create shaped (e.g., square, diamond, etc.), blind, through, tapered holes, slots, vias, and other features. Familiar applications include inkjet nozzles and biomedical products (cell sorters, microfluidics).

Material removal is precise and controlled through 'photo-ablation', whereby tiny and controlled amounts of material are removed with successive laser pulses at a very high repetition rate. No heat is put into the product, there is no damage to the product (burning or melting), and the ablated material evaporates as a plasma plume, with virtually no waste products to contaminate surrounding materials. Photo-ablation creates sharp, clean features and enables complex shapes and features to be created. JPSA's Applications Development Lab will evaluate the feasibility and manufacturability, as well as develop the process, for any application.

JPSA's large-area step and repeat processing of massively parallel holes is fast and extremely accurate due to the micron-tolerances achievable with UV laser processing and JPSA's multi-axis UV laser micro machining systems and extremely accurate air bearing stages. JPSA manufactures its own brand of multi element imaging lenses; this in-house comprehensive optics design capability gives JPSA the ability to use many stock lenses or to design new lenses for specific applications, including drilling and micro-machining features below 1 micron resolution as well.

JPSA products and services include UV excimer and DPSS laser micro machining systems, UV and VUV laser beam delivery systems, UV laser materials processing development, optical damage testing, and excimer laser refurbishment services. JPSA Laser operates a high-performance UV laser job shop as well as a systems engineering and manufacturing business. For more information, visit www.jpsalaser.com, or contact the company at 17D Clinton Drive, Hollis, NH 03049 USA, Tel. 603.595.7048, fax 603.598.3835. E-mail: info@jpsalaser.com.

More from Electronic Components & Devices