MFR-4000 12G-SDI Routing Switcher carries 4K video using single cable.
Press Release Summary: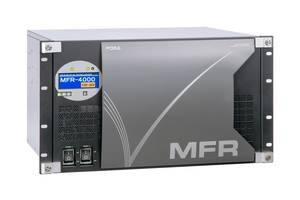 Enabling matrices of 72 x 72 inputs and outputs for efficient single-wire 4K routing, MFR-4000 12G-SDI Routing Switcher supports system components such as RS-422, analog audio and AES audio interface routing. Equipped with gearbox technology to support 4K conversion, MFR series provides redundant power and control.
---
Original Press Release:
Expanded FOR-A 12G-SDI Routing Switcher Line Paves the Way to 4K and 8K Integration
Gearbox for Interchanging 12G-SDI with Quad Link 3G-SDI Also Among NAB Product Introductions
FOR-A will introduce an expanded MFR series of routing switchers at 2017 NAB SHOW in Las Vegas this April. The new ground up design MFR-4000 12G-SDI supported routing switchers, the existing MFR-3000, MFR-5000, and MFR-8000 will include gearbox technology will be shown in NAB booth C5117 during NAB, from April 22-27 in the Las Vegas Convention Center.
The new MFR-4000 12G-SDI routing switcher enables matrices of 72x72 inputs and outputs for efficient single-wire 4K routing. The MFR-3000 can be configured up to 64x64, the MFR-5000 with up to 128x128, and the MFR-8000 with up to 256x256 -now available with Gearbox technology. In 4K mode, the MFR-3000 is capable of matrices up to 16x16, the MFR-5000 of up to 32x32, and the MFR-8000 up to 64x64.
Many of the MFR series matrix support optional support versatile core system components like RS-422, analog audio and AES audio interface routing. The MFR routers are team players with other FOR-A devices such as tally connections with peripherals (such as video switchers or multi-viewers.) Thanks to the specifications of 12G-SDI, 4K signals can be carried over a single cable, resulting in less set up time and less space needed for equipment. Conventional 3G-SDI routing switchers require four crosspoint switches for input and output of 4K video. With 12G-SDI, 4K video can be carried over a single cable.
"Our 12G-SDI backbone allows our customers to use and expand their infrastructure with familiar technologies while establishing a greenfield SDI facility," said Hiro Tanoue, President, FOR-A America. "With a 12G-SDI set up, the same line of coax transports 4K, HD (1.5G and 3G), and SD signals. The installation is easier and less expensive with less wiring to deal with. Our goal is to help our customers along the way into 4K by using our 12G-SDI and IP-based (IP Gateway) solutions."
MFR-3000, MFR-4000, MFR-5000, and MFR-8000 routers also determine the type of SDI input automatically—no need to worry about what signals are supplied. The MFR offers fully redundant power and control and can be integrated into an SNMP monitoring system. SNMP monitoring enables monitoring of operational states, such as power, fan, and CPU status, SDI signal input or output, and crosspoint errors.
New FOR-A Gearbox that supports 4K conversion (Quad Link 3G-SDI and 12G-SDI) enable 4K support in routers previously incompatible with the format. Gearbox function is also provided mapping conversion between SQD (Square Division) and 2SI (2-Sample Interleave). Making their debut at NAB 2017 are: the MFR-16SDIGB, MFR-16SDOGB, MFR-8SDIGB and MFR-8SDOGB Gearbox. Equipped with these video conversion cards, all new FOR-A routing switchers can perform as core equipment for a 4K production system.
The MFC-2GB 12G-SDI to Quad Link 3G-SDI converter, a standalone Gearbox device, is also being introduced at NAB this year. The MFC-2GB provides two channels of conversion between 12G-SDI and Quad Link 3G-SDI, SQD and 2SI.
About FOR-A
FOR-A, a worldwide, industry-leading manufacturer, offers a wide range of broadcast and production products with a focus on cutting-edge technologies, including: HD, 4K and IP products. FOR-A continues to offer future-ready, cost effective, advanced technology solutions. Products include: video switchers, routing switchers, multi-viewers, full 4K high-speed cameras, IP encoders/decoders, multi-channel signal processors, 8K/4K/HD test signal generators, color correctors, frame synchronizers, file-based products, character generators, video servers and much more.
For a full range of HD and 4K production and processing solutions, as well as IP-based products, visit our web site at www.for-a.com.
Contact:
FOR-A CORPORATION OF AMERICA,
11155 Knott Ave., Suite G&H,
Cypress, C.A. 90630
Phone: 714-894-3311,
Fax 714-894-5399
Web site: www.for-a.com
More from Electronic Components & Devices