Metric Clutches and Brakes are RoHS-compliant.
Press Release Summary: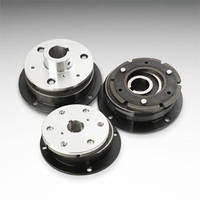 Deltran MCS/MBF Series metric clutches and brakes are available off-the-shelf in diameters from 2.48-11.02 in., torque ratings from 49-4,425 lb-in., 7 different frame sizes, and variety of DIN 6885/1-compliant metric bores and standard metric keyways. Featuring zero backlash armature design, they provide static or dynamic engagement. With operating temperatures ranging from -10°C to 40°C, customizable units suit OEM or after-market applications.
---
Original Press Release:

Danaher Motion's Deltran MCS/MBF Metric Clutches and Brakes Are Cost-Effective, High-Performance Solution in OEM or After-Market Applications



More available torque reduces costs when compared with competitive clutch/brake products

WOOD DALE, IL - Danaher Motion introduces Deltran MCS/MBF Series Metric Clutches and Brakes. These RoHS-compliant clutches and brakes are available off-the-shelf in diameters from 63 to 280 mm (2.48 to 11.02 in.), torque ratings from 5.5 to 500 Nm (49 to 4,425 lb-in), 7 different frame sizes, and a wide selection of DIN 6885/1-compliant metric bores and standard metric keyways. Customized versions are also available.

Deltran MCS/MBF series clutches and brakes feature a zero backlash armature design, provide static or dynamic engagement, and are rated for use in operating temperatures from -10°C to 40°C. Their higher torque rating enables users to install a smaller, less expensive unit than would otherwise be possible with competitive options, while their form, fit and function matches the most popular and globally-available metric clutch and brake products. As a result, they are an ideal cost-effective solution for smaller OEMs producing on the order of 1000 machines annually, or as a drop-in replacement, in medical, material handling, packaging, robotics and factory automation applications, among others.

About Deltran
Danaher Motion has more than 100 years of combined experience designing and manufacturing quality brakes and clutches. Danaher Motion's clutch and brake technology is rooted in brand names such as Deltran, API (American Precision Industries) and Warner PSI, now marketed under the Deltran brand. The Deltran brake and clutch factory is ISO9001/2000 and AS91000 certified, with over 780 models in stock for immediate delivery. Custom engineered Deltran clutch and brake solutions are available.

About Danaher Motion
Danaher Motion is a leading global manufacturer of motion control products that improve the efficiency and productivity of complex manufacturing operations. Danaher Motion's product innovations have been revolutionizing the motion control industry for over 60 years through trusted brand names including Kollmorgen, Thomson and Dover.

Danaher Motion, 1500 Mittel Boulevard, Wood Dale, IL 60191-1073; 1-540-633-3549; 1-540-639-4162 (fax); ContactUs@DanaherMotion.com; www.DanaherMotion.com.

Company Contact:
John Pieri
Danaher Motion
716.691.9100, x1241
John.Pieri@danahermotion.com

Related