Metered Dose Injector helps control Japanese Knotweed.
Press Release Summary: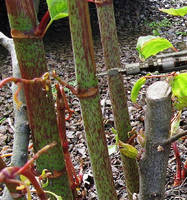 Featuring stainless steel frame, InjectorDos Pro delivers herbicide into hollow stems of weed via sharp needle. Regular needle penetrates tough mature stems of Japanese Knotweed with minimal effort, while second finer needle enables follow-up treatment of young re-growth. With dial-in facility, operators can dispense pre-determined metered volume of herbicide from 0.1-2 mL/shot. Applicator includes 1 L backpack with in-line tap for liquid shut-off, shoulder strap, and funnel.
---
Original Press Release:

Micron InjectorDos Goes Pro



Micron Group, a leading manufacturer of herbicide sprayers and applicators, has recently launched InjectorDos Pro - a metered-dose injector for the control of Japanese Knotweed aimed at the professional contractors and local authorities.

The new InjectorDos Pro features a stainless steel frame for added comfort and durability and is built to withstand the rigours of repetitive and frequent use. The applicator's streamlined design enables easy access to the dense growth of Japanese Knotweed whereas the ergonomically shaped handle helps to reduce muscle fatigue despite continuous use, thus offering a faster and more efficient way of treating this invasive weed.

InjectorDos Pro delivers herbicide into the hollow stems of the weed via one of its sharp and robust needles: the regular needle is slightly thicker in diameter and is designed to penetrate tough mature stems of Japanese Knotweed with minimal effort whereas the second finer needle is intended for follow-up treatment of young re-growth.
InjectorDos Pro design also includes a 'dial-in' facility which allows operators to dispense a pre-determined metered volume of herbicide formulation between 0.1ml and 2ml per shot. Generally a single 2 ml shot of glyphosate is administered between the second and third stem nodes.

The applicator is supplied with a compact one litre backpack with a built in in-line tap for easy shut off of liquid, a comfortable shoulder strap and a funnel. Easy to use and simple to maintain, InjectorDos Pro also features chemical resistant seals for extended longevity of the injector.

Packed with operator-friendly features, InjectorDos Pro offers the professional contractor a highly efficient yet competitively-priced solution for fast and safe elimination of Japanese Knotweed. Application by injection means there is no product loss to the surrounding area, making InjectorDos Pro an environmentally safer choice.

For more information on this story, please contact Ausra Landey at Micron Group on 01885 482 397 or email ausra.landey@micron.co.uk

o Micron Group is one of UK's leading manufacturers of herbicide sprayers and applicators

o Micron Group are the inventors of CDA (Controlled Droplet Application) technology which enables users to reduce spray volumes

o Micron's product portfolio includes mounted and hand-held sprayers and precision applicators for the agricultural, horticultural, aerial, amenity and forestry industries

o Micron products, which incorporate highly respected brands such as Ulva+, Herbi and Micron Enviro, provide a cost-effective and safe way to apply pesticides

Ausra Landey

Group Marketing Manager

Micron Group

Bromyard Industrial Estate,

Bromyard, Herefordshire,

HR7 4HS, U.K.

T. +44 (0)1885 482397

www.micron.co.uk

Micron Group is a trading name of Micron Sprayers Ltd
Company Registration No. 00529633 England & Wales

More from Machinery & Machining Tools