Meter measures capacitor leakage current and IR.
Press Release Summary: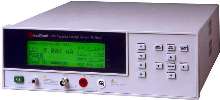 Equipped with LCD display, programmable limits, and voltage monitoring capabilities, Model 1855 is suited for automated production environment or bench-top testing. Unit, also able to measure rise time of electrolytic capacitors in single unit, features 500 mA charge current and 1-650 V programmable dc voltage source. It measures leakage current from 1 nA to 20 mA with basic measurement accuracy of 0.3%.
---
Original Press Release:

QuadTech Introduces The Model 1855 Capacitor Leakage Current/IR Meter


Fast and Accurate Leakage Current Testing Of Capacitors

Maynard, MA - QuadTech, Inc., a leading electronic test equipment manufacturer in the passive component and electrical safety testing marketplace, announces the availability of a new tester for leakage current and insulation resistance measurements on capacitive components. The Model 1855 is designed for high speed testing in an automated production environment or bench-top testing in R&D applications. The high charge current of the instrument offers the ability to quickly charge capacitors and accurately measure leakage current, insulation resistance, and rise time of electrolytic capacitors in a single unit.

Some of the outstanding features which makes the 1855 ideal for testing a wide variety of capacitive components:

· High Charge Current of 500mA
· Programmable DC Voltage Source, 1 - 650V
· Leakage Current Measurement, 1nA to 20mA
· Basic Measurement Accuracy of 0.3%
· Insulation Resistance Measurements to 99 Gohms
· RS-232 Interface Standard, IEEE-488 & Handler Optional

The 1855 Capacitor Leakage Current Meter offers a number of other features including, electrolytic capacitor testing per EIAJ RC-2364A, large LCD display, fast measure speed, programmable limits, and voltage monitoring. The 1855 fulfills the test method of electrode foils for aluminum electrolytic capacitors per EIAJ RC-2364A. The programmable charge current, display of test voltage, rise time, and final voltage, are all in accordance with the requirements of this standard. The instruments large LCD display incorporates a menu driven user friendly interface for quick and easy setup, and display of test results. For high speed production testing of capacitive devices measure rates of 18/second are possible. For pass/fail testing a comparator function with high and low limits can be programmed for the measured parameter. A pulsed or continuous alarm can be enabled for either a pass or fail. To ensure operator safety the output voltage is monitored in real time on the instrument display.

The 1855 Leakage Current Meter also provides an automatic null correction to zero out extraneous leakage current. A built-in power discharge circuit provides rapid and complete discharge of the device under test. The charge, test, and discharge time functions can be sequenced automatically as programmed, or stepped manually by the operator.

The price of the Model 1855 Capacitor Leakage Meter is $2,495, which includes a NIST traceable calibration certificate and lead set for connecting to the device under test. The unit also carries the CE Mark enabling wider acceptance in the global marketplace.

For more information on the QuadTech model 1855 or other products, please call (800) 253-1230; fax: (978) 461-4295 or visit www.quadtech.com for full product specifications.

About QuadTech:
QuadTech, an ISO 9001 Certified manufacturer, offers a complete line of instrumentation, LCR meters for testing passive components, Hipot testers and ground bond testers, safety analyzers, megohmmeters and milliohmmeters, as well as calibration and repair services. Based in Maynard, MA, QuadTech has a worldwide network of direct sales and distributors who service and support customers around the globe. In the United States, all of QuadTech's products carry a 45-day money back guarantee. In addition, QuadTech provides new product rental and lease plans.

More from Test & Measurement