Metcal Offers New Hand-Pieces with Unique Tip Cartirdge Geometries
Press Release Summary: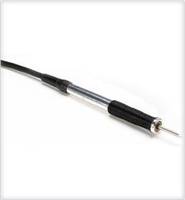 The Hand-Pieces for Connection Validation™ (CV) soldering system are available in ultrafine, ultrafine tweezer, precision tweezer, desolder, high thermal demand and solder wire feeder geometries. The hand-pieces convert the CV system into a complete soldering solution for challenging applications. The Precision Tweezer hand-pieces are suitable for applications that require removal of surface mount components from 1 mm x 1 mm and above.
---
Original Press Release:
Metcal Launches Complete Set of Hand-Pieces for Connection Validation™ Rework Systems
CYPRESS, Calif., Sept. 4, 2018 /PRNewswire/ -- Metcal, part of OK International and Dover (NYSE: DOV), announced the release of seven new hand-pieces to complement the Connection Validation™ (CV) soldering system. These ergonomic hand-pieces transform the CV system into a complete soldering solution for a wide variety of applications.
Metcal's CV soldering system was released with great fanfare last year, winning a number of industry awards for its innovative approach to hand soldering. The system evaluates the quality of the solder joint and provides closed-loop feedback to the operator. This systemic and objective approach delivers repeatability and a measurable standard to the soldering process.
When the CV soldering system was released, it came with Metcal's advanced CV hand-piece. Hundreds of solder tip cartridges were available for most standard soldering applications with the advanced hand-piece. Now, with the release of these seven new hand-pieces, the CV soldering rework system is the solution for even the most challenging soldering applications.
The new hand-pieces include:
Ultrafine Hand-Piece: for use on delicate components.
Ultrafine Tweezer Hand-Piece: for more versatility on micro-components, great for working under a microscope.
Precision Tweezer Hand-Piece: turns CV into a rework system for applications requiring the removal of surface mount components from 1mm x 1mm and up.
Desolder Hand-Piece: for use on through-hole components.
High Thermal Demand Hand-Piece: provides a boost in performance by effectively delivering thermal energy to the most demanding loads.
Solder Wire Feeder Hand-Pieces: two versions that work with the solder wire feeder – an advanced hand-piece and a high thermal demand version.
All of the new hand-pieces are now available with a number of unique tip cartridge geometries. The tip cartridges are available in a variety of temperature series to satisfy the most challenging applications. Metcal's global distribution network has access to these and all Metcal products.
For more information about any of Metcal's electronics assembly bench tool solutions, visit metcal.com.
About Metcal:
Metcal, a brand of OK International, is a benchtop solutions expert that has delivered broad value to customers since its Silicon Valley beginnings in 1982. Offering unrivalled performance, risk mitigation, and ROI, they give electronics manufacturers in automotive, aerospace, medical devices and military sectors the tools—and the confidence—they need to develop faster, safer, more advanced products. Metcal provides advanced technology products across hand soldering, convection rework, fume extraction, and fluid dispensing applications. For more information, visit metcal.com.
About Dover: 
Dover is a diversified global manufacturer with annual revenue of approximately $7 billion. We deliver innovative equipment and components, specialty systems, consumable supplies, software and digital solutions, and support services through three operating segments: Engineered Systems, Fluids and Refrigeration & Food Equipment. Dover combines global scale with operational agility to lead the markets we serve. Recognized for our entrepreneurial approach for over 60 years, our team of 26,000 employees takes an ownership mindset, collaborating with customers to redefine what's possible. Headquartered in Downers Grove, Illinois, Dover trades on the New York Stock Exchange under "DOV." Additional information is available at dovercorporation.com.
CONTACT: Metcal Contact: Jerry Simmons, Marketing Manager, (714) 799-9910, jsimmons@metcal.com ; Dover Media Contact: Adrian Sakowicz, VP, Communications, (630) 743-5039, asakowicz@dovercorp.com ; Dover Investor Relations Contact: Paul Goldberg, VP, Investor Relations, (630) 743-5180, peg@dovercorp.com
More from Software