MetalMaster® Furnaces Remain Industry Workhorse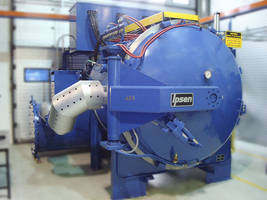 CHERRY VALLEY, IL - Within the past few weeks, Ipsen has shipped five MetalMaster® vacuum furnaces to companies in locations around the world: Washington, South Carolina, Mexico and China. Comprised of both horizontal- and vertical-loading systems, these shipments will be used to process parts for the Commercial Heat Treating and Aerospace industries - a market where Ipsen and its equipment have a strong reputation and presence.
These customized furnaces also varied in size, ranging from 36" x 48" x 30" (915 mm x 1,220 mm x 762 mm) all-graphite hot zones with a 2,000-pound (907 kg) load capacity all the way up to a 72" x 156" x 92" (1,829 mm x 3,962 mm x 2,337 mm) all-metal hot zone with moly heating elements and a 20,000-pound (9,072 kg) load capacity. These heat-treating systems are also capable of providing tight temperature tolerances with DigiTrim® controls settings and meeting applicable AMS 2750E requirements.
The MetalMaster furnace's design has maintained ultimate performance and reliability for more than 45 years, with 500+ installations worldwide. It delivers the cleanliness and uniform cooling that customers request while also providing a cost-effective, versatile and adaptable vacuum furnace system.
MetalMaster furnaces may also be ordered with several high-productivity options:
• Specialized instrumentation
• Increased pumping capability
• Material handling systems
To learn more about the unique features of Ipsen's MetalMaster, visit www.IpsenUSA.com/MetalMaster.
About Ipsen
Ipsen designs and manufactures industrial vacuum and atmosphere heat-treating systems, supervisory controls systems and predictive maintenance software platforms for a wide variety of industries, including Aerospace, Automotive, Commercial Heat Treating, Energy and Medical. With production locations in America, Europe and Asia, along with representation in 34 countries, Ipsen is committed to providing 360° support for customers worldwide. Choosing Ipsen means choosing a partner in success.
More from Thermal & Heating Equipment