Metallized Polyester Box Capacitors suit telecom applications.
Press Release Summary: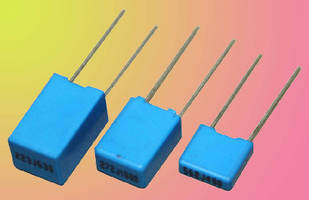 Constructed in rectangular plastic cases with 5 mm lead spacing, TYPE 9245WT Series is available in voltages from 50-1,000 Vdc with capacitance values from 0.001-1 µF and extended temperature range up to 105°C. Dielectric strength is 1.6 Vr for 2 seconds, and dissipation factor is 1.0% max at 1 KHz at 25°C. Miniature, non-inductively wound devices are suitable for blocking, filtering, bypass, energy storage/discharge, and arc suppression in wireless and broadband telecom applications.
---
Original Press Release:

Tecate's New High-Temperature Metallized Polyester Box Capacitors Optimized for Telecom Applications



Miniature Devices Boast 5 mm Lead Spacing

San Diego, CA, - The Tecate Group, a leading global supplier of capacitors and ultracapacitors, announced today its miniature, radial lead TYPE 9245WT Series of metallized polyester (PET) box capacitors. Devices feature the extended temperature range (up to 105 degrees C) and high voltage capability required by telecom applications, and are constructed in rugged rectangular plastic cases with 5 mm lead spacing. Tecate's 9245WT capacitors are provided in voltages ranging from 50 VDC to 1000 VDC, and in capacitance values from 0.001 µF to 1 µF to further maximize design flexibility. The non-inductively wound RoHS-compliant parts boast exceptional self-healing properties to promote long product life and ensure the utmost in reliability and safety.

Engineered for space-constrained applications in which high temperature is a factor, Tecate's TYPE 9245WT metallized polyester box capacitors are uniquely suitable for blocking, coupling/decoupling, filtering, bypass, energy storage/discharge and arc suppression in wireless and broadband telecom applications. They are equally appropriate for employment in data processing equipment, industrial instrumentation, automatic control systems, and in varied general electronic equipment.

The capacitors feature an extended temperature range of -40 to +105 degrees C with full rated voltage, and to +120 degrees C with voltage derating. They are provided in 20 capacitance options ranging from 0.001 µF to 1 µF, and in voltage options of 50/63 VDC, 100 VDC, 250 VDC, 400 VDC, 630 VDC, and 1000 VDC. While all TYPE 9245WT parts feature 5 mm lead spacing, their rectangular plastic cases range in size from 7.2 mm (L) x 2.5 mm (W) x 6.5 mm (H) up to 7.2 mm (L) x 6.0 mm (W) x 11.0 mm (H). Case and epoxy fill meets UL94V0. Capacitance tolerances are +/-5%, +/-10% and +/-20%. Dielectric strength is 1.6 Vr for 2 seconds, and dissipation factor is 1.0% max. at 1 KHz at 25 degrees C. For additional information, or to request a quote, visit http://www.tecategroup.com/capacitors/products/film.php

Depending on customers' specifications, pricing for Tecate's TYPE 9245WT metallized polyester (PET) box capacitors ranges from $0.035 to $0.22 each in quantities of 5,000. Delivery is from 6 to 8 weeks ARO. Samples are immediately available.

About Tecate Group

Headquartered in San Diego, CA, Tecate Group (www.tecategroup.com), is a global leader in the design, sales, and distribution of capacitors and ultracapacitors, as well as audio and multimedia components and service. The Company specializes in supplying high-quality ceramic high voltage, tantalum, aluminum electrolytic and film capacitors, together with ultracapacitor cells, to the world's leading OEMs, assemblers, and end users in markets spanning consumer electronics, telecommunications, industrial, military, medical, automotive, transportation and utilities. Founded in 1963, Tecate Group has long maintained its commitment to provide unparalleled levels of customer service and support, along with state-of-the-industry design and engineering resources. The Company additionally takes pride in offering customers virtually unlimited customization capabilities for unique applications, and maintains a vast global network of sales representatives www.tecategroup.com/sales/salesreps.php and distributors http://www.tecategroup.com/sales/distributors.php

More from Fluid & Gas Flow Equipment